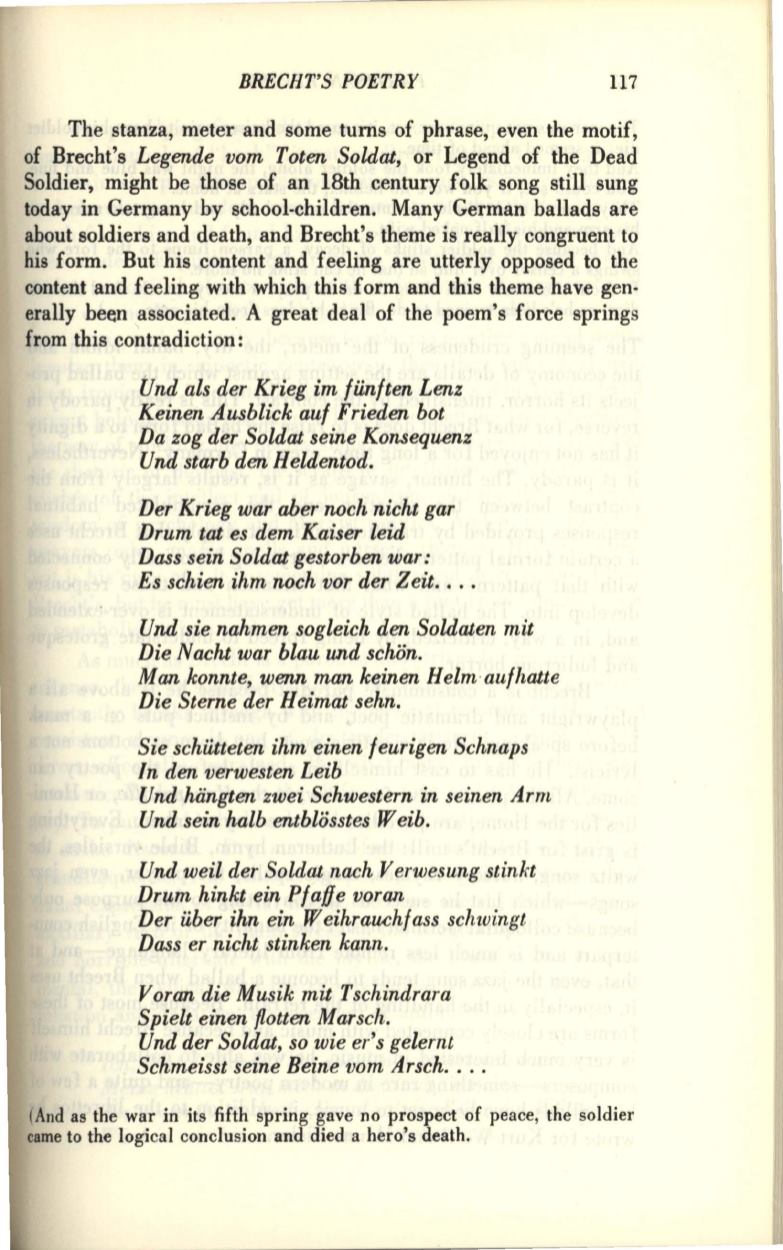 The stanza, meter and some turns of phrase, even the motif,
Legende vom Toten Soldat,
Soldier, might be those of an 18th century folk song still sung
today in Germany by school-children. Many German ballads are
about soldiers and death, and Brecht's theme is really congruent to
his form. But his content and feeling are utterly opposed to the
content and feeling with which this form and this theme have gen–
associated. A great deal of the poem's force springs
flnd als der Krieg im fiinften Lenz
Keinen Ausblick auf Frieden bot
Da zog der Soldat seine Konsequenz
Und starb den Heldentod.
Der Krieg war aber noch nicht gar
Drum tat es dem Kaiser leid
Dass sein Soldat gestorben war:
Es schien ihm noch vor der Zeit.
Und sie nahmen sogleich den Soldaten mit
Die Nacht war blau und schOn.
Man konnte, wenn man keinen Helm aufhatte
Die Sterne der Heimat sehn.
Sie schiitteten ihm einen feurigen Schnaps
In den verwesten Leib
Und hiingten zwei Schwestem in seinen Arm
Und sein halb entblOsstes Weib.
Und weil der Soldat nach Verwesung stinkt
Drum hinkt ein Pfaffe voran
Der iiber ihn ein Weihrauchfass schwingt
Dass er nicht stinken kann.
Voran die Musik mit Tschindrara
Spielt einen flotten Marsch.
Und der Soldat, so wie er's gelernt
Schmeisst seine Beine vom Arsch....
(And as the war in its fifth spring gave no prospect of peace, the soldier
came to the logical conclusion and died a hero's death.