Instructions for Historically Speaking Authors
H
istorically Speaking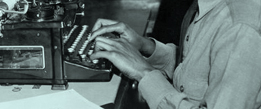 is a unique publication. We feature informal essays, interviews, and forums on a wide variety of history-related topics. We provide a congenial venue for conversations to occur across the boundaries that often separate the many subfields of history. We strive to make
Historically Speaking
interesting, provocative, and timely—something that busy historians look forward to receiving. Our ultimate goal is to produce the kind of publication that anyone—professional historian or layperson—interested in the broad sweep of history cannot afford to miss.
Writing should be informal. Endnotes are permissible, but argument "below the line" should be kept to a minimum. Essays should be relatively brief (on average in the 2500-3000-word range) and written in accessible prose. We copyedit every submission for clarity and stylistic consistency. Of course, authors will be given opportunity to review and approve suggested editorial changes.
Submissions should be sent as attachments to the editors at historic@bu.edu.

Joseph S. Lucas and Donald A. Yerxa, Editors
Randall J. Stephens, Associate Editor
Contributing Editors: Joseph Amato, Eric Arnesen, Lauren Benton, Jeremy Black, George Huppert, Pauline Maier, George Marsden, Bruce Mazlish, Wilfred McClay, Allan Megill, Joseph Miller, Dennis Showalter, Barry Strauss, Carol Thomas, Derek Wilson, John Wilson, John Womack, Bertram Wyatt-Brown