B.U. Bridge is published by the Boston University Office of University Relations.

Bay State Road's feathered family
Ching-to Albert Ma, a CAS associate professor of economics and acting director of the Industry Study Program (currently on sabbatical in Hong Kong), used a Nikon with telephoto lens and AGFA 400 film to record moments in the life of a hawk family that took up residence on the fifth-floor fire escape at 270 Bay State Road, just outside Ma's office windows. Construction of the nest began in November 2000. Sticks of varying sizes, scraps of litter, and tufts of grass were fashioned into a completed nest by March 2001. In late March, an egg was seen, and the hawk parents cared for the hatched chick until early June, when the family left.

The egg is kept warm by one parent while the other stands guard. "I was amazed by how much the two parents cooperated to get the egg hatched," says Ma. After the chick emerged, "whenever it rained, the parents would sit on the chick to protect it from the elements."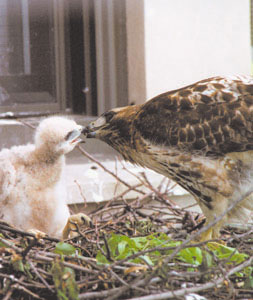 The care and feeding of the chick was a round-the-clock job, Ma says, and attracted a large audience. "All my colleagues took a very keen interest in the hawks. Occasionally some people would take pictures from the street. A few -- strangers -- would even knock on the office door and ask to photograph the birds."


"The parent hawk behavior changed significantly once the egg hatched," says Ma. "They became more aggressive and protective." Ma had to share office space with Michael Manove, a CAS professor of economics, because the birds would attack Ma whenever he opened a window in his own office.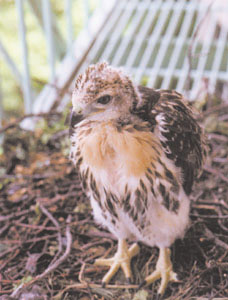 In a matter of weeks, the chick developed a more hawkish personality and appearance. "But I missed the first flight of the chick," says Ma, "because I was in Hong Kong doing a seminar."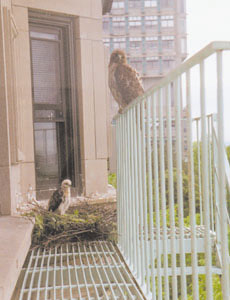 "These hawks have been around for some years," notes Ma. "If they're not nesting here, they'll be nesting nearby. It was just pure luck the nest was built so near my office. But I was surprised they chose such a close proximity to humans. I can physically touch the nest from my window." BU's School of Law building looms in the background.