B.U. Bridge is published by the Boston University Office of University Relations.

Weathering heights
El-Baz: pyramids and the Sphinx were modeled after landforms
The pyramids of Egypt's Giza Plateau have always inspired awe and wonder. Who built them? How and why were they constructed?
ENG shares $5 million grant to develop communicating networked control systems
Boston University Trustees name DeWolfe chairman
The Trustees of Boston University have elected real estate executive Richard DeWolfe (MET'71) as chairman of the board. He succeeds Earle Cooley (LAW'57), who has been chairman since 1994. Cooley was elected chairman emeritus.
Symposium to explore anti-Nazi theologian's life and work
The main street of America
Route 66 revisited
Mention Route 66, and most people think of the 1960s television show of the same name and a southwestern highway littered with neon lights and gaudy, fiberglass mascots announcing garishly painted gas stations, diners, and motels.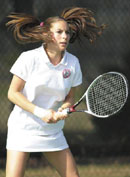 The mane event


On the right, Debray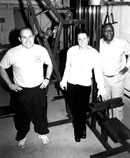 BU Athletic Department