Departments


| | |
| --- | --- |
| Week of 28 January 2000 | Vol. III, No. 21 |

Feature Article

Discipline and improvisation key in BU Jazz Ensemble
By David J. Craig
On the subject of music, Mark Leccese can riff with the best of them. He can discuss punk rock and swing-era jazz with equal virtuosity, making even a comparison between the Clash's raw energy and Duke Ellington's complex chord progressions and syncopations sound logical.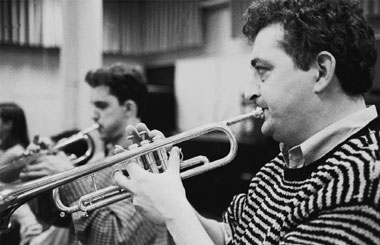 Mark Leccese, a College of Communication lecturer, rehearses with the BU Jazz Ensemble. Photo by Jenny Ahlen
---
But to Leccese, a College of Communications lecturer in journalism, that's precisely the problem. Somewhere along the path from music-obsessed teenager to professional wordsmith, he let go of a passion. "I never stopped listening to music or going to shows," says Lecesse, 42. "But at some point, I realized that my whole life had become reading and writing. I was dying to make music again."

So last September, on the advice of a trumpet teacher who encouraged Leccese to improve his skills at reading music by joining a big band, he joined the BU Jazz Ensemble. He can read better now, and he's sticking with it. "I'm still a mediocre trumpet player," he says. "I let the other trumpet players handle the solos. But after a long day of work and then trudging out into the cold to rehearse, it's an absolute joy when we start playing. For me, music is like eating food."

The objective of the Jazz Ensemble, a 17-piece big band, is to allow non-music majors with a background in jazz to continue their music education. Since Michele Caniato (SFA'98) took over as director of the ensemble and coordinator of four smaller SFA jazz combos, it's worked. Enrollment in the one-credit courses has grown from 16 students in 1995 to 30 this semester, and the number of annual performances of the groups has grown from 6 in 1995 to 30 this year. About two-thirds of the students enrolled are not music majors. Next month, 100 copies of the Jazz Ensemble's first studio recording, a compact disc featuring 11 tracks, will be available.

But if the ensemble's players don't have the schooling of music majors, don't tell that to Caniato. The strength of his courses may be in his high expectations. He chooses compositions with the highest difficulty ratings, and the group has never performed the same piece twice (selections have ranged from big band standards to funk to hip hop). He pulls no punches in rehearsals.

"When I was younger, I was less confident about letting people know if they weren't playing something exactly right in class," says Caniato, an SFA instructor. "Now, I don't let anything slip. I make sure to give students a yardstick, and they measure up to it."

For Leccese, the only nontraditional student in the ensemble, the greatest surprise upon joining the band was the music's difficulty. "It's one thing to play 'Autumn Leaves' in a combo, when the melody is straightforward and you have to improvise for a couple of progressions," he says. "It's another to play all these unusual 9th and 11th chords that you don't hear as often in classical music. He's got us doing tough stuff.

"What's great about a big band," he continues, "is that you end up with the energy and excitement of good rock and roll and the pleasure of listening to a dozen parts doing all sorts of strange rhythms, melodic lines, and counterlines."

For Katie Morzinski (SED'01), the Jazz Ensemble is a way of keeping a log on the fire that was lit when she began playing trumpet in fifth grade. The daughter of a jazz trombonist, she played in the ensemble two years ago, as a freshman. Determined to keep music a part of her life, she is making time for the band again this year.

Insisting that she doesn't have the confidence to solo and that to her, jazz is "just kind of fast, happy, and repetitious," Morzinski says that the combination of freedom and structure in a big band is what appeals to her. "As a player, it's more fun than being in a concert band, because each trumpet has a different part," she says. "In swing and a lot of big band jazz, the beat is always just behind where you'd expect it, so it sounds casual. It's really interesting and emotional."

Morzinski may be self-deprecating, but according to Caniato, all of his students have the tools to swing with the soul of a band composed of music majors.

"The easiest thing about teaching music is that when students play something wrong, they can tell, because everyone has guts," he continues. "The trick is to get students to trust their guts. The last couple of years, we've been getting to that point.

"We had a professional trumpeter play with us on our CD," he continues. "He really enjoyed himself and when he was leaving he said, 'You know, you guys have a great band.' That was it, right there. That's what makes it fun."
---
The BU Jazz Ensemble will perform next at the Tsai Performance Center on Monday, April 3, at 8 p.m.