Departments
Arts


| | |
| --- | --- |
| Week of 28 January 2000 | Vol. III, No. 21 |

Arts

Revivifying Virgil
Poet-translator Ferry visits UNI seminar
By Eric McHenry
The first translation in David Ferry's The Eclogues of Virgil concludes with the line, "And the shadows of the hills are lengthening as they fall."
It is the only line in the book, Ferry told the UNI Translation Seminar on January 21, that contains six, rather than five, metrical feet.
And it is particularly illustrative, he said, of the challenges that literary translators face and the compromises they inevitably make.
In the original Latin -- "maior-esque cadunt altis de montibus umbrae" -- the adjective and noun that suggest the words "lengthening" and "shadows" in Ferry's translation are situated at opposite ends of the line. The word for "hills" occurs at its center.
"The end of the day is spreading through the line," said Ferry, one of the most esteemed contemporary translators of classical texts, "and enlarging, rather mysteriously, because of the Latin syntax and its capacity to separate the adjective from the noun, with 'altis' placed exactly in the middle."
Literally lengthening the translated line, to suggest the syntactic distension of the original, was "the only way I could think to deal with it," Ferry said. "It's an example for me that's particularly vivid of what is true in every line one tries to translate. The conditions of the other language are so different from those of one's own -- in the case of Latin radically different metrically, grammatically, and syntactically -- that translation in a confident sense is impossible."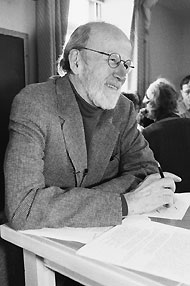 David Ferry Photo by Vernon Doucette
---
That doesn't mean it's an unworthy enterprise, Ferry said. A translator's best effort will adhere both to the terms of the new language and to those dictated, through the use of subject matter, imagery, aural devices, and different levels of diction, by the poet. It will be "as faithfully as it can be a reading of the original poem," he said.

Along with Virgil's Eclogues (Farrar, Straus & Giroux, 1999), Ferry has produced authoritative renderings of The Odes of Horace (Farrar, Straus & Giroux, 1997) and the Babylonian epic poem Gilgamesh (Farrar, Straus & Giroux, 1992), for which he received a National Book Critics Circle Award nomination. He is currently at work on a translation of Horace's Epistles. An eminent poet in his own right, Ferry has periodically taught workshops in the BU graduate Creative Writing Program since becoming Sophie Chantal Hart Professor Emeritus of English at Wellesley College. His most recent collection, Of No Country I Know: New and Selected Poems and Translations (University of Chicago Press, 1999), is one of five finalists for a reader's choice award sponsored by The New Yorker.

"For David Ferry, translation is intrinsicate with what is loosely called original composition," said Rosanna Warren, introducing Ferry. "In his fashioning of voices -- Horace, the Babylonian Gilgamesh, Baudelaire, Goethe, Hölderlin, Johnson's Latin -- he has fashioned a haunting voice of his own, gently colloquial, gently decorous, and austere."

Ferry's presentation, Translating Virgil's Eclogues, was the second in this year's series of Friday lectures. Required for students in The Theory and Practice of Literary Translation seminar, the lectures are also open to the public and tend to attract large crowds.

Warren, who is Emma Ann MacLachlan Metcalf Professor of the Humanities and the seminar's instructor, says that in scheduling the series she tries to achieve a diversity of genre, of century, and of language. She also attempts to draw speakers who have done recent and well-received work in the areas they plan to address. This semester's roster includes such veritable celebrities as the poet-translator Galway Kinnell, whose acclaimed volume The Essential Rilke was published last year, and the literary scholar Jonathan Galassi, whose bilingual edition of Eugenio Montale's collected poems will appear in May.

"This semester is unusual in that I have two scholarly sessions," Warren adds, "with examples of translation as a form and corollary of scholarly research."

Alice Sedgwick Wohl, an independent scholar, will discuss her translation of Giovan Pietro Bellori's Vite, a life of Michelangelo, on February 4. And on March 3, Edwin Curley, who is currently translating and editing Volume II of The Collected Works of Spinoza for Princeton University Press, will speak on the challenges of that project.

"He knows Dutch and Latin thoroughly, and is the foremost Spinoza scholar-translator in North America," Warren says of Curley. "To me it is a monumental work of philology and of philosophy, and I'm very interested in the implications philology has for philosophy: you can't think well unless you get your words right.

"This sort of scholarly work is a little bit outside the immediate arena of literary translation," she says, "but I think it has a bearing on literary translation: it introduces a scale of scruple and conscience that literary translators need to keep in mind."
---
The Translation Seminar lectures will take place from 1 to 3 p.m. on Fridays through April 28 at 745 Commonwealth Ave., Room 525. For more information, call The University Professors at 353-4020 or visit www.bu.edu/uni.