| | |
| --- | --- |
| Week of 28 January 2000 | Vol. III, No. 21 |

Feature Article

Overseas-study menu adds global entrées
By Hope Green
If there is such a thing as academic nirvana, Susan Brandon, a premed student with a double major in biology and history, has found it this semester in England.
As one of four participants in Boston University's new honors program at Pembroke College, University of Cambridge, Brandon (CAS'00) is learning from some of the world's foremost experts in art, architecture, and the history and philosophy of science. And strolling the scholarly city, Brandon is constantly reminded of science's great visionaries. Here was the campus, she says, where Isaac Newton proposed revolutionary theories in physics, and the pub where pioneering geneticists James Watson and Francis Crick announced their discovery of the DNA double helix.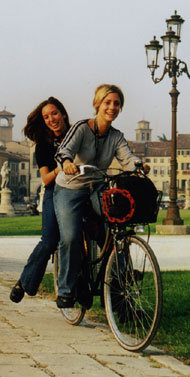 Two of this year's participants in BU's study-abroad programs pedal the Prato della Valle in Padua, Italy.
---
"I had always assumed that being a science major I wouldn't be able to take a semester abroad," Brandon says. But when she heard about the Pembroke honors program, she was intrigued by the chance to combine her interests while experiencing British culture.

Pembroke is the newest in a lengthy slate of study-abroad opportunities available through BU's Division of International Programs. Brandon is among a record 746 students enrolled in the programs this semester, 13 percent more than last spring.

International Programs has reported steady gains in enrollment of BU and non-BU students since 1996. While an expanding variety of opportunities and active recruitment efforts help to account for the trend, University officials say, the increase also reflects a national surge of interest in cross-cultural study.

"I think students have realized that the world has changed enormously, and that everything they do has an international dimension," says Urbain DeWinter, assistant provost for international education. "They look for programs like this to help them understand that dimension more fully."

Traditional study-abroad experiences have tended to focus narrowly on foreign language and culture, adds Joseph Finkhouse, executive director of international programs, whereas BU's approach "has increasingly been to expand our programs to reflect the breadth of the University curricula."

At a recent BU Board of Trustees meeting, Dennis Berkey, University provost and dean of Arts and Sciences, noted that BU ranks among the nation's leading sponsors of academic programs overseas. Specifically, the University offers 24 programs that span 15 countries on 6 continents, varying in length from a summer to a full academic year. Students can apply for courses at major foreign universities, internships abroad (as well as in Washington, D.C.), and opportunities for archaeological and ecological field research.

The International Programs office, said Berkey, "acts like a small university in itself" as it manages such issues as recruitment, admissions, curriculum development, financial aid, and housing. But the department has made its greatest strides, he says, in coordinating faculty collaborations across the continents. "Faculty from the Charles River Campus schools and colleges have worked to refine the study-abroad curricula," he told the Trustees, "making it mesh more effectively with our home-campus programs."

The School for the Arts faculty recently joined this intercontinental effort. With SFA assistance, last spring BU launched the London Theatre Arts Program at the London Academy of Music and Dramatic Arts, and the Venice Graphic and Visual Arts Program at the Scuola Internazionale di Grafica. A semester of music studies will join the schedule next year in Dresden, where BU already runs liberal arts and internship programs and plans to add a science-and-engineering option in spring 2001.

Other recent additions to the itinerary are an internship program in Dublin, which kicked off in September, and a Madrid spring-semester honors program, now in its second year. BU also sends students to Japan through an affiliation with the Kyoto Consortium for Japanese Studies.

Of course, students enjoy immersing themselves in another language, living at a foreign university or with a local host family, and having professors guide them through famous cathedrals, historic sites, and art museums. But there is also a decidedly pragmatic motivation for their global adventures.

"I hope to have a career in academic medicine, and help change the policies of the health-care system in America," says Brandon, "so at Cambridge, I have chosen to sit in on lectures on medical ethics and health policy."

Crystal Mentz (COM'00), who spent a semester in Madrid last spring, aspires to a career in international public relations, possibly working in a Spanish-speaking country in South America if not Spain itself. "I always thought I would work closer to home," she says, "but Madrid completely changed my professional, academic, and personal goals."
---
For more information, contact the Division of International Programs at 353-9888, or visit www.bu.edu/abroad.