Departments




| | |
| --- | --- |
| Week of 3 December 1999 | Vol. III, No. 16 |

Feature Article

Controversy and emotion are critical components in producer's new film
By Hope Green
A common assumption in Hollywood is that movies raising divisive social dilemmas run the risk of becoming box-office poison. Yet with his new film scheduled for release in mid-December, The Ciderhouse Rules, producer Richard Gladstein (COM'83) shows that he is not afraid to work against that convention. Among other themes, the screenplay explores the ethics of abortion.
Devising a set of rules and principles to live by is the film's central concern. The concept is also vital to Gladstein's career, and recently he shared some of his experiences with 300 College of Communication students when he hosted a screening and discussion of Ciderhouse, adapted from the bestselling 1985 John Irving novel, at the Loews Nickelodeon Theatre.
"The film business has a certain set of guidelines, but they're pretty loose," Gladstein says. "As a filmmaker, you have to operate under your own set of rules."
Born and raised in New York, Gladstein majored in broadcasting and film at COM, where he recalls being exposed to "all the different facets of the communications world" and learning about film criticism. He started his movie-making career the way many producers do, working a series of odd jobs that appear far down when the credit list rolls. One of his early assignments was serving as an assistant location manager for the 1986 film Brighton Beach Memoirs. "I was the guy who had to shush the dogs out on the street and keep them from barking during a shoot. I had to keep giving them treats, then I'd run back to the set."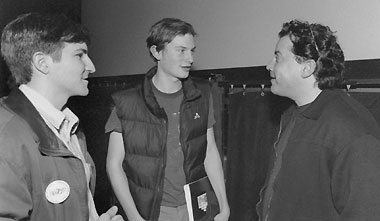 Producer Richard Gladstein (COM'83) (right) speaks with Craig Sherman (COM'00) (left), and David Moltz (COM'02) after a screening of his soon-to-be-released film, The Ciderhouse Rules. Photo by Kalman Zabarsky
---
While such production-related jobs were none too glamorous, Gladstein says, they helped him learn the business and make contacts with directors. He eventually took an administrative position with the Dino DeLaurentiis Corporation, followed by a marketing job at Anjelika Films in Manhattan. Later, he became executive vice president of Miramax Films, where he was executive producer for Quentin Tarantino's Pulp Fiction, Sean Penn's The Crossing Guard, and Robert Altman's Ready to Wear, among others. He founded his own Los Angeles-based production company, FilmColony, in 1995.

"Over the course of working on other people's films, I decided that working on one film at a time was something I was attracted to," he explains. "I always knew I was interested in the creative aspects of filmmaking, such as how to tell a story, casting, and cinematography, and it has surprised me over time how interested I've become in the business side as well. Being a producer has both creative and business aspects, and allows you to have some control over your own project."

As president of FilmColony, Gladstein has developed a range of small independent films as well as big-budget studio features. The company's credits include Hurly Burly, based on the David Rabe play, the high school romantic comedy She's All That, and 54, about the famous New York nightclub.

But Gladstein calls Ciderhouse one of his all-time favorite projects because the book appealed to him on an emotional level. "I look for stories that click with me in some way, and characters I find interesting," he says, when a student asks how he chooses his material. "I like to find that really good yarn to tell."

Directed by Lasse Hallström (who also directed What's Eating Gilbert Grape and My Life as a Dog) and shot entirely in New England, the film stars Tobey Maguire as Homer Wells, a naive young man who sets out during the early 1940s to find his true calling in the world after spending his entire childhood at an orphanage. Wilbur Larch (Michael Caine), the home's live-in doctor, has tutored Homer thoroughly in medicine and expects that his protégé will someday take over the practice without any formal training.

Despite Larch's appeals for him to stay, Homer hitches a ride with a young couple and becomes an apple picker at their family orchard. Outside the sheltered world of the orphanage, Homer is exposed to a rougher side of life through his friendship with an experienced group of pickers, who are black and chronically poor. He also falls in love for the first time, and comes to view the notion of family in a new light. Simultaneously, Homer is forced to rethink his differences with Larch regarding abortion. Larch has performed the procedure for many years in an era when it was illegal, believing it preferable to women's attempting it on their own or going to an incompetent practitioner.

"Somebody said to me, the way to make this film really commercially successful is to take out the whole abortion thing," Gladstein recalls, "but it's integral to the theme of the film. I expect there to be some controversy, but we tried to present different viewpoints on the issue."

Regardless of the movie's uncomfortable subject matter, Gladstein is confident that the production will have wide appeal, with its poignant portrayals of children at the orphanage and powerful acting by adult stars such as Caine, Maguire, Delroy Lindo, and Charlize Theron. "What we've found so far [at preview screenings] is that the film seems to touch people's emotions," Gladstein says, "and when that happens, a film does well at the box office."