Departments
Arts




| | |
| --- | --- |
| Week of 3 December 1999 | Vol. III, No. 16 |

Arts

Our Town to be BU prof's final production
By David J. Craig
When the last curtain falls on the BU production of Our Town this month, the directing career of Jacques Cartier also draws to a close.
Like the Grover's Corner, New Hampshire, townsfolk in Thornton Wilder's play who find enlightenment, however, Cartier, an SFA professor of theater arts for 22 years, has little interest in reminiscing. He's focused on the performance at hand, which he insists will be a study in tradition.
"Hopefully, nothing will be unique about it," he says. "The play works best when it follows Wilder's directions to the line. We're modeling our production on the original, done in 1938."
Cartier's handling of Our Town -- which is about how members of a rural, turn-of-the-century New Hampshire town "just across the Massachusetts border" learn to appreciate the profundity of life's simplest moments -- isn't revolutionary. But Cartier's vision for the play, which was unusual at the time it was written because of its lack of scenery and its prominent stage manager-narrator, is clear and intense.
"It works because the actors and the audience are forced to imagine things," Cartier says. "And when it's really stripped down, it gets at the essence of daily life: relationships between husbands and wives and children, between girls and boys falling in love, and finally death, and trying to deal with the lasting verity of life."
It's fitting that Our Town, a production of SFA's theatre arts division, is the final play that Cartier will direct at BU. The play, for which Wilder (1897-1975) won the 1938 Pulitzer prize in drama, is one of the few theater masterworks that Cartier hasn't directed. If the production is similar to previous plays he has directed, it will be literate, intelligent, and traditional to a T.
"He's not interested in making a contemporary comment," says Eve Muson (SFA'86), executive assistant at the theatre arts division and a former student of Cartier's. "What he taught me is to create something that evokes the voice and era of the playwright. He feels that they're the great teachers and we don't have to fancy up a play by doing anything too clever."
Because in Our Town Wilder "spelled out 80 or 90 percent" of the decisions typically made by a director -- and because the play employs a large cast that few professional theater groups can afford -- the play is more often produced at high schools and has "gotten kind of a bum rap for being sentimental," Cartier says. Our Town is difficult to act, he adds, because its main characters show a complex mixture of backwoods naiveté and down-home wisdom. Sentimentality often creeps into the play -- as it certainly did in the 1940 film adaptation starring William Holden -- when the characters are portrayed as being nearly simple-minded.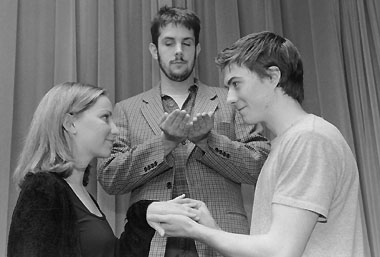 Kathryn Zamora-Benson (SFA'00), as Emily Webb, and Noah Bean (SFA'00), as George Gibbs, take their wedding vows before Christopher Thorn (SFA'00), as a minister, during a rehearsal for the SFA theatre arts division's production of Thornton Wilder's Our Town, which opens December 8 at the Boston University Theatre. Photo by Kalman Zabarsky
---
"Finding Emily's innocence and willingness to believe was hard be