Departments




| | |
| --- | --- |
| Week of 19 November 1999 | Vol. III, No. 15 |

Feature Article

Finding help in cyberspace
SPH programs to combat violence and stop smoking nominated for Internet awards
By Hope Green
Broadcasters have their Peabody awards. Print journalists dream of winning a Pulitzer. Internet communicators, too, can earn laurels for exemplary achievement, and the highest honor to which the jockeys of cyberspace can aspire is the Global Information Infrastructure (GII) Award.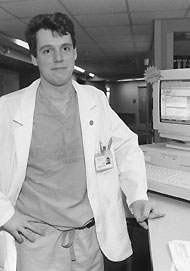 Nathan Cobb (MED'01) developed QuitNet, a Web site offering a mutual-support network for smokers trying to kick the habit. Photo by Vernon Doucette
---
The staff of Join Together, an antidrug, anti-gun violence project of Boston University's School of Public Health, recently learned that two of their Web sites have made the final cut in the fourth annual GII competition. The international, private-sector initiative recognizes creative uses of Internet technology in commerce, media, entertainment, and various arenas of public service.

Join Together Online (JTO), a virtual information center for community activists, and QuitNet, a site that helps people stop smoking, each were nominated in two contest categories.

Winners will be named on December 14. Regardless of the outcome, regular users give the BU sites high marks. "I've been smoke-free for over three months now, and I couldn't have done it without QuitNet," says Sarah Colvig of Korbel, Calif., who has been trying to kick the habit for 32 years.

Join Together was established in 1991 by David Rosenbloom, SPH associate professor of social and behavioral sciences, and is funded by grants from the Robert Wood Johnson and Joyce foundations. Largely through the use of electronic media, the organization helps grassroots leaders learn from one another in battling social ills on their streets, and provides a mutual-support network for smokers like Colvig.

"People learn best from their peers," says Kay Paine, Join Together's deputy director, "so the stories in our printed publications and Web sites link people across the country who are working on similar issues." A civic leader, for instance, might share an account of how a business community joined a campaign to reduce underage alcohol consumption. Smokers post bulletins about their progress with headlines such as "Hey, hey, two months for Jeanmay!" and "Badman passes 30 days," and are rewarded with 10 or more congratulatory messages from total strangers.

Electronic pioneer
Before most people had heard of a dot-com, dot-org, or dot-edu, Join Together created electronic forums that allowed community leaders across the country to exchange ideas. It employed whatever technology was available at the time, graduating from a closed-circuit bulletin board in the early 1990s to a Web-based format in 1995.

Navigating the JTO home page, the user will find a menu of daily news briefs on teen-smoker surveys, drug-testing controversies, handgun legislation, and pertinent Supreme Court cases. "In order to be effective, it's important for community leaders to understand how these issues are being reported in the mainstream press," says Paine.

A visitor to the site also will find congressional committee rosters, learn about federally sponsored fellowships for antidrug endeavors, and read about the achievements of other communities.

In addition, JTO offers tips on how to conduct research. A hospital emergency room, for example, can provide annual statistics on heroin overdoses, while police departments keep a tally of gun-related crimes. "We encourage groups to research the local data," Paine says. "Before they can address an issue, they have to know the extent of a problem in their own community, not just rely on national surveys."

Help for smokers
JTO is a finalist in the GII's community and news-and-media categories. QuitNet, Join Together's other award candidate, was nominated in the health and community divisions. It is the world's most heavily used smoking cessation Web site, attracting more than 40,000 visitors daily, according to Nathan Cobb (MED'01), the site's creator and developer. A key feature is a computerized coaching and feedback service.

"It's called an expert system," explains Cobb, a former smoking cessation counselor. "It figures out your stage of readiness to quit, based on your own psychological profile. When you log in, it prompts you to answer questions about your progress since your last visit."

Chat rooms at QuitNet are also extremely popular, with up to 500 messages being posted daily. Colvig, the California ex-smoker, met a fellow quitter from Queens, N.Y., through the site and the two women correspond regularly via e-mail, exchanging pep talks and progress reports. "We've become friends and send each other cards," Colvig says. "I'd never done anything like this electronically, and I think it's incredible. I live alone, so I don't have a partner at home who can help me quit. And people who have gone through this understand you a lot better."

Colvig also uses the site to keep an online diary of her progress, and a metering tool allows her to determine how much money she has saved by not buying cigarettes since August.

"QuitNet is helping to save my life," she says, "and I know it has done the same for a lot of other people."
---
Visit Join Together Online at www.jointogether.org and QuitNet at www.quitnet.com.