Departments




| | |
| --- | --- |
| Week of 19 November 1999 | Vol. III, No. 15 |

Feature Article

Welcome to the jungle
Sports fans' behavior an increasing problem, prof says
By David J. Craig
Golf fans around the world were appalled during September's Ryder Cup when U.S. fans heckled Scottish golfer Colin Montgomerie before a putt. Later, spectators stormed onto the Brookline Country Club green to celebrate a crucial 17th hole putt by American Justin Leonard, thereby disrupting play. Three weeks later, after an umpire's bad call against the Red Sox in a playoff game with the New York Yankees at Fenway Park, some of Beantown's devoted expressed their frustration by throwing garbage on the field, causing a delay in the game and prompting criticism from national television commentators and an apology on behalf of the city from Mayor Thomas Menino.
Leonard Zaichkowsky, an SED professor of development studies and counseling, who specializes in sports psychology and is one of the country's top experts in fan behavior, found neither episode surprising. American sports fans, he says, at both professional and college events, are crazy and getting crazier.
"The nature of fan misbehavior has clearly gotten worse," he says. "At pro events, the ticket prices have a lot to do with it. Fans are paying more and more, the players are getting richer, and the fans think that they're entitled to something."
While rowdy British soccer fans have generated disgust all over the world for years, problems with fan behavior at professional sporting events in the United States are increasing these days, and certainly are not confined to Boston. In Philadelphia, home of football's hapless Eagles, fans get so out of control that local law enforcement operates a courtroom -- complete with two judges and a holding cell -- inside the stadium during games. Even winning doesn't ensure proper behavior. When the Denver Broncos won their second straight Super Bowl last January, Denver fans were so thrilled that they rioted, destroying businesses in their own city and blocking traffic for hours.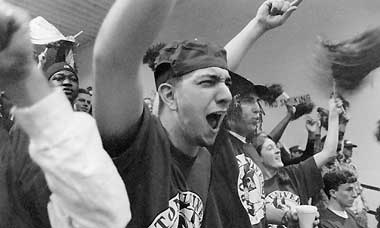 BU has zealous sports fans, like these cheering the men's basketball team on to victory in the 1997 America East championship game against Drexel University, but they do not become unruly, say BU officials, as have fans at some recent professional events. Photo by Fred Sway
---
Nor are the problems confined to the big leagues. "I think fans at college events are modeling what they see in the pros," Zaichkowsky says. It's well known, for instance, that hockey fans must choose their seats carefully at BU's Walter Brown Arena, as crowd exuberance there is known to be as formidable for parents as for opposing goaltenders.

"I wouldn't sit anywhere near Section 8 again with my kids," says Chris Cakebread, an assistant professor in COM and season ticket holder, who once purchased front row seats in the section designated for BU students. "I was there with my sons, who were 7 and 10 at the time, and every word you heard was a f-word. We had to leave."

Small beans compared to the bleachers at Fenway, maybe. Cakebread admits that the BU students' antics -- offering an opposing goaltender a sieve, enticing BU's most emotionally invested fan, Brian "Sasquatch" Zive (CAS'94), to show his body hair -- are merely amusing, for the most part. And Alan Weinberger, BU's assistant athletic director in charge of facilities, says that in the 30 years he's worked at BU, there's never been a need to increase security or for informative announcements before hockey games detailing expected behavior. He points out that shouting obscenities is a removable offense at BU events.

Still, Zaichkowsky, who will be part of a team of consultants advising on security at the 2000 Summer Olympic games in Sydney, Australia, insists that fan education is the most underrated and underused tool in controlling bad behavior at sporting events.

"We need to educate people in a consistent way about what is permissible behavior," he says. "When they get inside the stadium, they think it's a place where they can vent their anger. Then, when one person acts up, another joins and it grows and grows." He advocates that public service announcements about proper behavior be broadcast at games and on television.
Len Zaichkowsky, an SED professor of developmental studies and counseling and curriculum and teaching, says that public service announcements informing sports fans about expected behavior in arenas should be broadcast on television and at sporting events. Photo by Vernon Doucette
---
A gender divide
Fans at women's athletic events, interestingly, tend to adhere to common rules of decency. "The fans at women's events are passionate, but I don't think I've ever heard a distasteful or rude remark directed at a player or coach," says Jack Falla (COM'67,'90), a former Sports Illustrated staff writer, and a lecturer at the College of Communication, who frequently writes about both women's and men's sports at BU. "It's a completely different atmosphere."

The trouble at men's events occurs when fans forget that sporting arenas are public places where ordinary rules for social conduct apply, says Zaichkowsky. A likely explanation for the Ryder Cup incident, he says, is that many U.S. fans, while patriotic, aren't schooled in golf etiquette.

"A lot of people who attended had probably never been to a major golf competition and just didn't know how to act," he says. "They acted like they were at a football game. Organizers were actually handing out educational pamphlets, but who's really going to sit there and read it?"

Zaichkowsky and many other observers, such as Boston columnist Will McDonough, suggest that national television commentators blew out of proportion the recent Fenway episode. Zaichkowsky calls it "a black mark on the city of Boston for nothing." Indeed, there have been far more disruptive incidents in other ballparks over the years.

But while Boston has been known for its civility, local sports fans are no exception to the recent national trend in worsening fan behavior, according to Zaichkowsky.

"Teams in all cities pretty much face the same problems," he says. "We don't know if fan education on a large scale will work, because we've never tried it. But we have to try it, before something far worse happens."