Departments


| | |
| --- | --- |
| Week of 5 November 1999 | Vol. III, No. 13 |

Feature Article

Screenwriter gives film students dose of reality
By Hope Green
A running joke in Hollywood is that everyone who breathes has an idea for the next blockbuster film.
A boat captain, for instance, once struck up a conversation with Barry Levinson when the director of Rain Man and Bugsy was vacationing off the coast of Maine. "You're in movies, huh?" the Down-Easter muttered from behind the wheel, and proceeded to talk up a script he had penned in his spare time.
Bill Phillips, a professional screenwriter and visiting associate professor at Boston University's College of Communication, tells the story to illustrate just how pervasive is the dream of having Gwyneth Paltrow or Tom Hanks play out one's amateur jottings in Dolby stereo.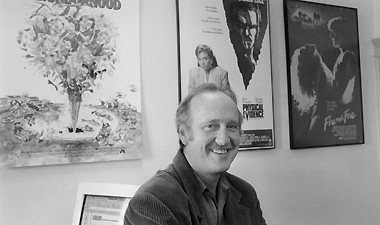 Bill Phillips, COM visiting associate professor, has an insider's view of Hollywood. Photo by Kalman Zabarsky
---
"When I was going to school, if you wanted to write anything, it would be the great American novel," says Phillips, who teaches his craft in COM's department of film and television. "Now everyone seems to want to write the great American screenplay."

The task for Phillips is to help COM students make screenplays that sell. That's an area where he has considerable expertise. More than a dozen of his scripts have become feature films, and many others have been produced for television.

Phillips, who earned a master's degree in film writing and production at the University of Southern California, sold his first script while working as a Hollywood prop man. During a Rodeo Drive errand -- he was purchasing a silver tray for a brandy commercial -- he ran into an old film-industry acquaintance and told him of a New England scriptwriting contest he had recently won. The friend connected him with an agent who was able to get a producer's attention for the prize script, Summer Solstice. The made-for-television drama starred Henry Fonda and Myrna Loy. His feature breakthrough was Christine, an adaptation of the Stephen King novel about a killer car. This would be the first of many collaborations between Phillips and director John Carpenter. "John's great to work with," Phillips says, "because when I write something for him I know the film will be made the way I wrote it."

Westerns, police dramas, comedies, and romances are also on Phillips' list of credits, along with the Jack Reed television series, which he cowrote with director Brian Dennehy. "If there's anything that characterizes my writing," says Phillips, "it's that I've successfully avoided being pigeonholed" in any genre.

Phillips says he continues to sell most of his scripts through an agent because of stiff competition in the industry. He estimates that Hollywood studios and agencies receive more than 100,000 scripts a year, and reject most of them. "Every producer wants to discover the next Star Wars," he says, "but they know that 98 percent of the scripts they receive are really bad stuff." The stakes are certainly high: the cost of the average major motion picture, including advertising, is $75 million.

For a script to stand out from the slush pile, Phillips tells his students, i