Departments
Sports


| | |
| --- | --- |
| Week of 5 November 1999 | Vol. III, No. 13 |

Sports

BU hosts America East tournament
Playoff time: field hockey team gears up for "second season"
By Brian Fitzgerald
Across the world, millennium parties are about two months away. However, BU Field Hockey Coach Sally Starr and her Terriers will be ringing in the new year a little early.
"It's a new season," says Starr of her team's matchup against Delaware on Friday, November 5, at Nickerson Field. The 5 p.m. game is the first round of the America East tournament. The championship game, also at Nickerson Field, is on Sunday, November 7, at 1 p.m. The winner receives an automatic bid to the NCAA tournament.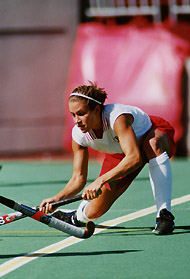 Midfielder Jessica Alcorta (SED'00), one of the most versatile players in the country, may be named to her third All-America team this year. Photo by Tim Winn
---
Ring out the old: BU's 6-0 regular-season record against conference teams enabled the Terriers to host the America East tournament, but now it's time to see the "second season" through. The first round of the national tournament will take place November 13 and 14, and BU, because of its 15-5 overall record, might just host the games. The Final Four will be played at Northeastern on November 19.

But the Terriers first must get by Delaware, a team they defeated, 4-1, on the road September 26, but not without their share of damage. "We were beaten up in that game," says Starr. Indeed, forward Kate Cusick (CAS'02), who was third on the team in scoring last year -- and ninth on BU's all-time scoring list -- was lost for the season with a knee injury after being tackled from behind. "After that game, we also lost Jessica Alcorta for two weeks with a knee injury," says Starr. Without 1998 third-team All-American Alcorta (SED'00), who had five assists in her first seven games this year, BU nonetheless emerged victorious in three of its next four games, losing only to defending national champion Old Dominion.

BU's three final regular-season games resulted in losses to nationally ranked teams: Princeton, Connecticut, and Wake Forest. Starr would rather have gone into the playoffs on a winning note, but points out that there is no shame in losing to Connecticut, ranked at number two, or number six Wake Forest. The Princeton loss was a different matter. "All year we had done a good job at not having bad losses," says Starr. "But the Princeton game was a bad loss. That one kind of jumped up and bit us." Princeton's Illvy Friebe took a particularly big chomp out of the Terrier defense, scoring a hat trick. But it was a war that BU should have won. The Terriers enjoyed an 18-11 shot advantage, and had 12 penalty corner shots to the Tigers' 5.

"On any given day we can beat teams like Wake Forest and Connecticut," says Starr of the 1-0 losses to both teams. "But we have to remember that philosophy with Delaware too. America East's playoff format isn't like Hockey East's [men's ice hockey], where you can lose one and still come back to win it in a best-of-three series."

BU is undefeated in the conference, but that doesn't mean that the Terriers are unbeatable. In 1996, BU's only other unblemished season against conference opponents, the Terriers beat Delaware in the opening round of the tournament, but then lost to Northeastern. BU, with a 16-5 record, made the NCAA tournament anyway, only to be thwarted by Princeton in an excruciating 5-4 loss.

The 1996 season was BU's second finest ever. The Terriers achieved the final ranking of number eight. In 1985, the 17-4-2 squad went to the Final Four and ended up with a number four ranking, BU's best ever. However, after 13 straight winning seasons, Starr is ready to take her team to the next level. But first, the America East tournament.

"We don't want to get too wrapped up with getting an NCAA bid," says Starr. "That kind of distraction can turn into a negative. We'll just concentrate on playing our best game, and if we do that, we'll come away with a victory."