Departments


| | |
| --- | --- |
| Week of 5 November 1999 | Vol. III, No. 13 |

Feature Article

Happy hunting ground
Students have leverage in hot economy
By David J. Craig
A college graduate with a computer background can waltz into today's job market and snag an offer from a high-tech corporation in the blink of an eye. But with the economy booming, even liberal arts majors -- traditionally the wallflowers at career fairs -- are getting in on the action.
Starting salaries for most college graduates have shot up in the last year, according to a recent study by the National Association of Colleges and Employers (NACE), which surveyed 342 college planning and placement offices across the United States. It's common for graduates with technical expertise to receive a hefty signing bonus and investment perks, recruiters say, and liberal arts students are increasingly likely to be hired and trained on the job in businesses such as consulting and finance.
"The recruiters seem more anxious than the students this year," said Kathy Brochul, who represented Travelers Insurance at the BU Career Fair October 27. "I think the students know that just about every company will consider them. That's why we've switched to casual dress -- to be more approachable."
Recruiters at the fair jockeyed to greet students, initiating conversation and luring them with free candy, pens, T-shirts, and bumper stickers. If the hospitable mood at the event -- which featured representatives from 130 corporations and had about 2,000 student visitors -- reflected the current job market, it was also proof that college career fairs are one of the most cost-effective ways to land a job.
Employers today place a high value on communication skills and adaptability -- assets that are difficult to show on paper -- and as any recent graduate can attest, meeting a prospective employer is one of the most difficult parts of the job hunt. Shaking hands with a recruiter, taking a few minutes to tout your skills, and leaving a copy of your résumé is a great way to get your foot in a company's door.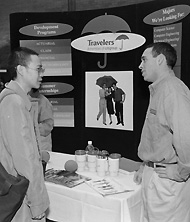 Kang Chen (GSM'00) chats with Steve Sechko, a recruiter from Travelers Insurance, at the BU Career Fair October 27. Students who attended the event received a warm welcome from representatives of 130 corporations. Photo by Fred Sway
---
"Obviously, we're looking for people who genuinely want to work in finance," said Steve Tipton, a representative of Northwestern Mutual Life. "But the critical thing is their character and communication skills, and that's difficult to judge by looking at a résumé and seeing what someone majored in. We can teach a smart communication or education student how to put together a client portfolio."

The most lucrative opportunities are still for those graduates who studied computer science, information technology, computer engineering, or finance. Between September 1998 and this September, the average salary offer for a grad with a computer science degree jumped 6.4 percent, to $44,649, according to the NACE study. Most of these job offers were in software design and computer programming.

Although Kang Chen (GSM'00) is months away from receiving his graduate degree in management information systems, he walked through the recent fair with an air of confidence.

"I'll make $64,000, at least," said Chen, with four scheduled interviews already under his belt. "I don't think that will be a problem."

Because intangible assets, such as being able to learn new skills quickly, are so valued in today's economy, liberal arts majors are benefiting too. The average salary offer for sociology graduates increased 9.1 percent, to $28,340, according to NACE. Many of these opportunities were in counseling, sales, and entry-level management. Political science graduates posted the highest average salary offer among liberal arts disciplines -- $29,651, up 6 percent from last year, and English grads made $27,062, on average, up 2.9 percent. Engineering and business graduates posted increases of between 4 and 9 percent, NACE reports.

The salary increases for liberal arts graduates are partly because companies that five years ago would have hired only business majors are now searching for people with a broader academic background, who are considered by many employers to be more adept at quickly learning new tasks.

"If an English major knows some basic computer programs, he or she can be making $30,000 right out of school," said Rowena Tinio, human resources manager at CareTools, a health-care consulting firm. "Mainly, we want people who can gather information, analyze it, and write. Of course, if they can barely turn on a computer, they probably can't help us."

According to Dick Leger, director of the BU Office of Career Services, liberal arts majors can greatly improve their chances of finding a corporate job by spending just a few hours learning computer programs such as Microsoft Office, Word, Excel, Access, and PowerPoint.

"When students come and ask me what they can do with an anthropology degree, they're asking the wrong question," Leger says. "The trick is to decide what you want to do, and find out what you need to know to support it. Anything that doesn't require a high level of technical expertise is open to liberal arts majors."

Unfortunately, Leger says, most students who attend college career fairs are those with technical backgrounds and concrete professional direction.

"Students don't give these kinds of events the attention they should," he says. "This is a perfect way to start to overcome feelings of intimidation about looking for a job."

The Office of Career Services will host another career fair March 21, as well as an internship and summer job fair for underclassmen February 21. The office offers individual career counseling and frequent workshops on subjects such as résumé writing and job interviewing. In addition, it hosts dozens of recruitment dates throughout the year, when corporations come to BU individually to interview students. For more information, call the office at 353-3590 or visit its Web site at www.bu.edu/careers.