| | |
| --- | --- |
| 13 August 1999 | Vol. III, No. 3 |

Feature Article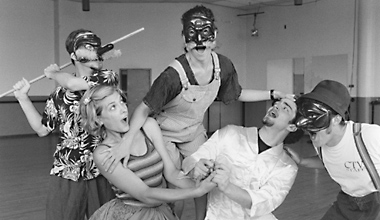 Allen Warnock (SFA'00), Georgia Lyman (SFA'99), Melinda Russo (SFA'00), Eric Rubb (SFA'01), and John Leonard (SFA'00) (from left) warm up for their City Hall Plaza performance. Photo by Kalman Zabarsky
---
Importing commedia dell'arte
High noon gets dramatic treatment as SFA troupe plays City Hall piazza
By Hope Green
Picture a spoof on Massachusetts politics with a 16th-century twist, as Capitano Worcesterino stakes his claim to state highway funds and a rich, miserly old politician fights his daughter's marriage to a fortune-telling servant's son -- a Big Dig construction worker.
The play debuts August 18 at City Hall Plaza, where a student troupe from BU's School for the Arts will demonstrate the Italian theatrical style known as commedia dell'arte, or artistic comedy, as part of a lunchtime performance series.
Donning traditional, fancifully sculpted leather masks, the players will revive a tradition dating back to just before Shakespeare's time, when acrobatic comedians from Italy made theatrical mischief across Europe. Taking on stock personas -- fools, cowards, connivers, and the like -- the actors would tweak the ruling classes onstage with wild, improvised antics as they roamed from town to town and picked up gossip of local political imbroglios for their onstage material. The genre of commedia is known for complicated plots in which foolish or deceptive servants foil the schemes of their masters.
If the students' director, SFA Associate Professor Judith Chaffee, has her wish, the Boston area will soon see a revival of this theatrical style, which has influenced legions of playwrights and slapstick entertainers. For the moment, her goal is to revive the teaching of commedia dell'arte in SFA's theatre division. Budget cutbacks forced the school to eliminate a course in the subject several years ago.
"The skills of commedia and its characters are so important for actors to know," says Chaffee. "This is a classical theater training school, and they need to understand the foundation on which so many of the characters they play are based."
Chaffee is movement coordinator of the acting training program, as well as movement specialist and choreographer for the BU Opera Institute. A fascination with masks -- and the desire to use them as a teaching tool for actors -- led her to enroll two summers ago in an intensive commedia workshop with Antonio Fava, master mask-maker and director of the Teatro del Vicolo in Reggio Emilia, Italy. The experience whetted her appetite for further research, and with a Whiting Foundation grant she took a sabbatical last fall to enroll in Fava's 13-week course on the history of physical comedy.
Every student in the course had a chance to portray all of the basic characters -- the pretentious old men such as Il Dottore (a doctor of questionable medical training) and Pantalone (a rich miser); the warriors, in particular Capitano (a captain with dubious military status); the servants, including the crafty Arlecchino (harlequin) and IQ-challenged Zanni (from which the word zany is derived); and the perpetually infatuated lovers.
At semester's end, each student received one of Fava's hand-crafted leather masks. Chaffee bought several more to use in her SFA student productions. The masks carry standard facial features -- such as a long nose for Zanni and a moustache on Capitano.
The vaudevillian slapstick of comedians such as Charlie Chaplin, the Marx Brothers, the Three Stooges, and many of the great clowns has roots in the Italian physical-comic tradition, Chaffee notes. "Slapstick" originally referred to a Zanni's trademark weapon, a slender, two-piece baton with a space down the middle that created a slapping sound on contact, but was actually painless.
Since her first workshop with Fava in 1997, Chaffee has employed his masks at SFA, usually as an exercise tool. In rehearsals for Shakespeare's Merchant of Venice and Love's Labour Lost, which both have several commedia-influenced stock characters, mask work proved beneficial to the actors.
"It helps them understand the importance of movement as a universal language," explains Chaffee, who once played semiprofessional softball and taught physical education and has performed with prominent modern-dance companies in Boston. "The actor must free himself of his own personal habits so the character can come alive through him. Facial expressions come from inner emotions. If the actor pastes it on, then the whole thing is disconnected. So I teach my students to work from the inside out. The challenge is to have them be aware of the power of physical communication, but not actually think about their bodies while they are performing."
Chaffee now teaches aspects of commedia dell'arte to juniors at SFA as part of their movement training, but next year she hopes to expand the program to sophomores and eventually bring back the comprehensive course once taught there.
"I would love it if some of the BU students start a commedia troupe after they graduate," Chaffee says. "That's why we're having the performance this summer. It's an opportunity to see how it goes in Boston."
---
Judith Chaffee's commedia students will perform at noon on Wednesday, August 18, at City Hall Plaza as part of the Lunchtime Music and More series. The event coincides with the citywide Chalk One Up for the Arts celebration from August 16 through 19 and the monthlong Art Street Festival. All are sponsored by public-mural artist Sidewalk Sam, a.k.a. Bob Guillemin (SFA'68), who runs the nonprofit arts group Art Street, Inc., with his wife, Tina.