| | |
| --- | --- |
| 13 August 1999 | Vol. III, No. 3 |

Bulletin Board

DeLisi's work on human genome immortalized at Smithsonian
A museum dedicated to preserving our nation's past recently honored academics whose eyes are fixed on the future, including Charles DeLisi, outgoing dean of the College of Engineering.
DeLisi, along with other luminaries involved in the Human Genome Project, accepted a Smithsonian Innovation Award June 7 at the National Building Museum in Washington, D.C. They were cited for their work in identifying and mapping human genes.
The Human Genome Project was started in 1990 as a collaborative effort among scientists around the world. The goal of the project is to eventually decode the entire human genome, consisting of more than 100,000 genes and three billion chemicals. Information already produced has enabled scientists to pinpoint the cause of previously untreatable diseases.
DeLisi, who has taught at BU since 1990, proposed the project in 1986 while working at the U.S. Department of Energy.
A record of the lives and work of those who contributed to the Human Genome Project will be included in the permanent collection of the Smithsonian's National Museum of American History.
---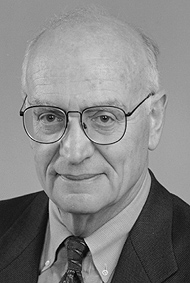 Robert Sperber
Boston University Photo Services
---
Robert Sperber honored by Brookline Rotary Club
BU School of Education Professor Robert Sperber recently received a distinguished public service award from the Rotary Club of Brookline.

Sperber, who served as Brookline's school superintendent from 1964 to 1982, is also special assistant to the dean at SED and executive director of the Boston Higher Education Partnership.

"Under his courageous leadership he took our school system to new dimensions," said award presenter Ruth Dorfman, a Brookline Tab columnist and a 1994 award recipient. "Among his accomplishments, Bob initiated stronger in-service training for teachers and administrators and instituted a school modernization program to systematically equalize and modernize all of our school facilities."

In addition, Sperber introduced an open campus at Brookline High School, the city's Community Interaction Through Youth Program, individualized occupational education, and the Senior Field Education Program. "He strengthened bilingual programs, collaborated on the nationally recognized Facing History program, and by 1976 oversaw the introduction of extended-day programs in all eight elementary schools," said Dorfman.

At BU Sperber served as a special assistant to President John Silber by facilitating special projects and advising on urban education matters. He is a member of the management team for the Boston University/Chelsea Schools Partnership.