| | |
| --- | --- |
| 13 August 1999 | Vol. III, No. 3 |

Feature Article

Technology Awards boost BU researchers into the marketplace
By David J. Craig
Casting your eyes on the face of a distant loved one soon may be as easy as dialing his or her telephone number, if an invention created by BU researchers takes off.
Truong Nguyen, an associate professor at ENG, hopes that technology he recently developed will revolutionize wireless communication, allowing devices as small as mobile phones to receive and display video images. He received a $50,000 Technology Development Award from BU's Community Technology Fund (CTF) last month to further develop a new algorithm for compressing electronic data.
Salomon Amar, an associate professor at SMD, also won a $50,000 award to study a previously unknown molecule, which he discovered recently and which he believes could lead to new treatments for inflammatory diseases such as Crohn's disease.
"Both of these awards support important discoveries in basic science that have an enormous potential to create products with commercial and social value," says Roger Kitterman, director of new ventures for CTF. "They are both at a point where our support will provide the crucial impetus to move from proof of concept to demonstrable prototypes and ultimately real products."
A new age in video technology
Last spring, Nguyen and graduate students Ying-Jui Chen and Soontorn Oraintara in the College of Engineering created an algorithm -- a mathematical tool that codes and compresses electronic data before it is transmitted from one computer to another -- that Nguyen says is twice as efficient as other algorithms used for video transmission.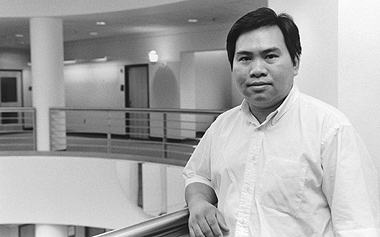 ENG Associate Professor Truong Nguyen has created a way to compress electronic data so efficiently that mobile phones soon could receive and display video images. Photo by Kalman Zabarsky
---
The technology could allow consumers to receive video images over wireless communication, he says. Sending video electronically now requires too much bandwidth and uses too much power for wireless devices to accommodate.

"What we've invented is a very fast transform," says Nguyen. "Now, the standard transform for image and video compression is very complicated and uses a lot of power." Using a large amount of power in any application, Nguyen adds, is bad news for consumers because devices like mobile phones run on batteries.

"Our algorithm is more efficient because it uses a 16-bit representation," continues Nguyen, referring to how much data the device transmits at a time. "Other ones use a 32-bit representation. So we reduce the complexity."

The implications of Nguyen's discovery should be far-reaching, leading to handheld remote televisions and videophones that are more efficient than those currently being developed, according to Kitterman. The algorithm is compatible with Internet file formats such as JPEG and MPEG.

"The batteries in mobile computing devices will last longer," Kitterman says. "For the same price, systems will be better, faster, and cheaper, which is what the computer business is all about. And Nguyen's algorithm is compliant with all the video standards out there, so you won't have to have a device made by the same company at both ends of transmission."

Nguyen, who has been teaching electrical and computer engineering at BU since 1996, plans to build several prototype devices during the next year to demonstrate his algorithm to interested companies.

"We're looking for a company so we can tune our algorithm to its products," Nguyen says. "We'd love to get a contract with a company like 3Com or Sony. Then we'd have a lot of products to work with."

Closing in on Crohn's disease
Amar, meanwhile, will use his award to develop technology that could lead to new treatments for inflammatory diseases such as rheumatoid arthritis and Crohn's disease.
Salomon Amar, an associate professor at SMD, is confident that within months he will develop new treatments for inflammatory diseases such as rheumatoid arthritis and Crohn's disease. Photo by Kalman Zabarsky
---
He and his team of researchers at the Goldman School of Dental Medicine discovered last spring that a previously unknown human gene called LITAF is involved in the production of another molecule, Tumor Necrosis Factor alpha (TNF). The human body uses TNF to fight infections; when it is overproduced, however, inflammatory diseases result.

Amar will now induce a mutation in live mice so that they lack LITAF. The animals then will be monitored to see if they are susceptible to inflammatory diseases and if they can fight infections.

"If there's a major difference in how a mouse responds, that would have tremendous implications and open up various therapeutic approaches for treatment," Amar says. "If an animal responds better to inflammatory diseases, then we implicate LITAF in the pathogenesis."

Amar says he would like to license his technology to a biomedical firm if the technology proves useful.

"This project goes toward my main goal of fighting infectious diseases," he says, "and the best way to get this out to help humans is to let a biomedical company market it."

Several companies have already expressed interest in the technology, according to Amar, who has taught periodontics and oral biology at BU since 1994.

"They are interested," he says, "provided we show that LITAF is involved in producing TNF in a real animal. Then, a possible treatment for Crohn's disease might involve momentarily stopping LITAF production in the patient."

Amar also hopes to learn more about the general characteristics of LITAF, such as whether or not it affects human development. But he feels that there is no time to spare in proving that LITAF is involved in infectious diseases.

"I'm sure there are many people watching me and copying what I've done already," he says. "The competition is intense, and BU really put together a great team to make this happen quickly."

CTF has applied for a patent for Amar's discovery, according to Kitterman, and is in the process of applying for a patent for Nguyen's.