Departments





| | |
| --- | --- |
| Week of 14 May 1999 | Vol. II, No. 34 |

Feature Article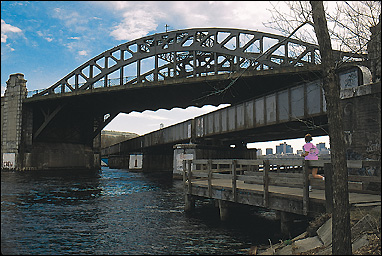 The BU Bridge provides one of the best views of Boston and BU, but it has its own beauty, captured recently by photographer Kal Zabarsky.
50 years as the BU Bridge
Half a century ago, a group of Boston University students marched on the State House with a demand. Or, more likely, they took the subway and presented a request. They proposed that the state consider renaming the Cottage Farm Bridge, which then marked the western boundary of the growing Charles River Campus.
The Cottage Farm Bridge had been open since 1928 and served, according to a preopening description in the Boston Herald-Traveler, as "one of the main links in the main traffic artery between the North and South Shores of Massachusetts." Its location was ideal, notes the paper, as "Braves Field, the home of the Boston national Base Ball team, is but a short distance from the Boston Terminus." The Cottage Farm Bridge replaced an 1850s wooden structure called the Brookline Bridge.
The BU students found an ally in State Senator John E. Powers, who sponsored the legislation to rename the span. The proposal passed both houses without a dissenting vote. In May 1949 the renaming was celebrated with a parade of ROTC members and "pretty Boston University coeds" (according to the Herald-Traveler once more). BU President Daniel Marsh and Powers (who died last summer) unveiled a commemorative plaque that cited BU's "service to state & nation."
The plaque has long since been stolen, alas, and only the bolt holes remain, wistfully awaiting a replacement. -- MBS
The BU Bridge crosses not only the Charles River, but a 19th-century railroad bridge as well. This 1949 picture shows a Boston & Albany steam locomotive hauling a string of boxcars to Cambridge as postwar automobile traffic makes its mark.
---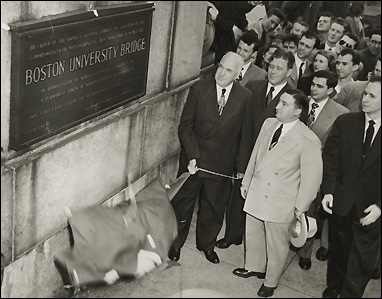 In May 1949, Boston University President Daniel Marsh and State Senator John E. Powers unveil the plaque that commemorated the naming of the Boston University Bridge. Archival photos from the Boston Herald-Traveler morgue, courtesy of the Boston Public Library Print Department
---
Below: The Cottage Farm Bridge was photographed shortly before its 1928 opening. We're looking from Cambridge toward two rival auto dealerships, Fuller Cadillac and Noyes Buick, both buildings now owned by BU.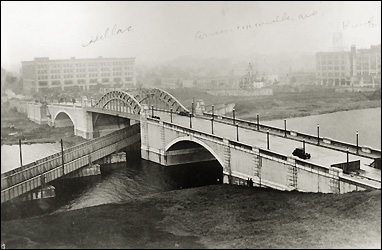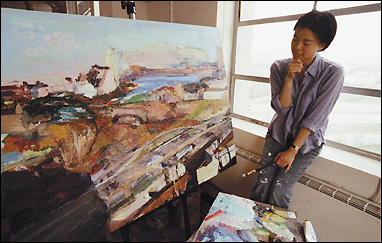 You can't miss seeing the bridge from the School for the Arts, and every year dozens of SFA students paint, sketch, etch, and draw the landmark. Helen Chuang (SFA'99) recently completed this impressionistic oil of the structure. Photo by Fred Sway