| | |
| --- | --- |
| 7 August 1998 | Vol. II, No. 3 |

Feature Article

Preservation goals set by the old-mills' team
by Brian Fitzgerald
At Boston University, what could a history professor and a biomedical engineering professor possibly have in common? Well, for starters, medieval historian Thomas Glick likes to mill around. So does David Mountain, an expert in the experimental and theoretical studies of hearing function.
That is, they love to visit historic water-powered mills, which were once the nucleus of most New England industrial communities. But Glick and Mountain do more than simply marvel at these relics of our past. They actively work to save the structures.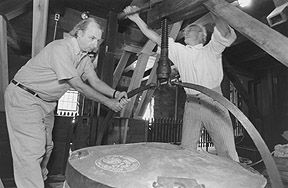 Holding the Wayside Inn stone crane's bails, or tongs, Thomas Glick (left) and miller Rich Gnatowski (turning the screw jack at top) lift the grinding stone (at bottom) to inspect the corn meal on the bed stone. Photo by Vernon Doucette
---
Once ubiquitous on the American landscape, the mills with their large waterwheels are a rare find these days. "Electricity did them in," laments Glick, a history professor at CAS. "And the Hurricane of '38 knocked down or damaged many of the buildings that were left standing." Most of the mills that survived into the second half of this century fell victim to building booms or have been converted into taverns and restaurants.

As president and founder of the Northeast Chapter of the Society for the Preservation of Old Mills (SPOOM), Glick puts out a newsletter detailing tours and restoration efforts of buildings that were an important part of the country's economy. He is especially fond of working gristmills, where grain is ground into flour.

Glick's first efforts at preserving old mills began two years ago -- 4,500 miles east of Boston. Glick, a medieval historian, was writing a research paper on the bread distribution process in 15th-century Valencia, Spain, when he found that several of the mills built during that period were still standing. "I discovered that three of these mills were threatened with demolition by a real estate developer," he says, "so I became involved in trying to save the structures. They were solidly built, but hadn't been used as mills for more than 100 years." Glick established the Association of the Friends of Valencia Mills.

The future of two of the Valencia mills is in doubt. Glick fears that he arrived on the scene too late -- builders have already obtained their permits. But on the wall of the other mill is a 17th-century fresco depicting Spanish troops in battle. Glick thinks this building can be spared from the bulldozer "because art historians have more influence than historians of technology," he laughs. Still, if saving a rare painting leads to the preservation of the mill, so be it.

Glick, who has taught at BU since 1972, soon thereafter became fascinated with New England's old mills. "SPOOM encourages the founding of regional chapters," he says. "There wasn't a chapter representing the Northeast, so I started one."

Glick says that one of the challenges of preserving mills in the United States is finding someone who knows how to restore them to working operation. "In Europe, mill societies are very well organized," he says. "In France, high school woodshop classes make replacement parts for mills. We're trying to establish that kind of approach." Glick's newsletter, The SPOOM Northeaster, includes a column that answers technical questions from millwrights -- people who maintain the buildings' mechanical equipment.

He also points out another reason to preserve old mills: Glick insists that milled flour tastes better than its commercial counterpart. "Maybe it's just due to my romanticism," he says with a smile, "but it's a fact that when grain is milled slowly, about 80 r.p.m., the fiber content isn't broken down as much as when it's milled industrially. Also, the flour is heated more when the grain is ground more quickly. When it's heated to more than 119 degrees, the enzymes and vitamins are destroyed. That's why commercial flour is enriched."

For those who want to judge for themselves, Glick suggests visiting the historic Wayside Inn gristmill in Sudbury, Mass., which was originally built in 1740 and then rebuilt in 1929. The inn's bakery features products made with the mill's stone-ground wheat and corn. Glick also notes that there are working wheel-powered mills in Cape Cod: the Dexter Mill in Sandwich and the Stoney Brook Grist Mill in Brewster. To visit these mills is like witnessing "living history," he says.
History Professor Thomas Glick pays a visit to the Wayside Inn gristmill in Sudbury, Mass., one of the state's four remaining water-driven mills still in operation. Photo by Vernon Doucette
---
Mills near the New Hampshire border
David Mountain's interest in mills began several years ago on a trip to Old Sturbridge Village, where his nine-year-old daughter was enthralled by a water-powered mill. "As an engineer, I'm interested in the machinery," says the ENG professor. "One also has to remember how important mills were in village life in New England. There are 4,000 mill dams still standing in Massachusetts."
Mountain, a resident of Byfield, Mass., 30 miles north of Boston, points out that the nearby town of Newbury was settled in 1635 and a sawmill was constructed the following year. Gristmills and sawmills were always built beside reliable rivers and streams, usually near waterfalls. Many rivers had to be dammed so that millponds could be created to act as reservoirs, enabling the mills to continue operating even when river levels were down.
It was Mountain's involvement with the Parker River Clean Water Association that introduced him to the Byfield Snuff Company mill buildings, one of which was constructed in 1804. "One of the mills has been converted to a private residence," he says. "But the future of the two others, especially the oldest building, is uncertain. The 1804 mill, because of its isolated location, has been vandalized often. All of its windows are broken, and the roof leaks."
However, Mountain and other concerned citizens are raising funds for the Newbury Historical Commission to repair the mills. A member of the Society for Industrial Archaeology, Mountain has recently enlisted that organization's help in maintaining the buildings.
"This snuff mill was originally a sawmill," says Mountain. "Saw-mills were instrumental in building this country -- the lumber was needed for houses and barns." The construction of these mills was often considered to be the first sign of civilization in the bush, and their existence led to community development, attracting settlers and merchants.
Glick agrees with his colleague's assessment of the role of the mills in history. "The water-powered mill, which was first used in ancient Rome, is possibly the most important industrial invention until the automobile," he says. "And these mills are such an important part of American history, but they're quickly passing from the present scene."