| | |
| --- | --- |
| 7 August 1998 | Vol. II, No. 3 |

Obituary

Douglas Parker, the art director of Bostonia and an active member of the Boston University art community since he was a BU student, died of cancer on July 30. He was 55.
A native of Arlington, Mass., Parker came to SFA on a full scholarship in 1960. He earned a BFA in 1964 and an MFA in 1966. While a graduate student, he designed the 1965 yearbook, the Hub, and was editor in chief of the 1966 edition. "Those two Hubs are among the most solidly designed publications ever produced at BU," says Michael B. Shavelson, editor of the BU Bridge and a Bostonia colleague of Parker's since 1993. "They show me clearly that from his student days Doug was very much aware of what was happening in typography and graphic design in the wider world."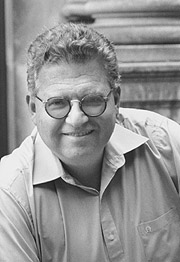 Douglas Parker
1989 photo by Kalman Zabarsky
---
During the 1960s Parker ran the BU Union Art Gallery and worked for the University as a graphic designer. His freelance work included all manner of assignments, from the original Cambridge Phoenix design to the interior design of one of the first rehabilitated living spaces on the Boston waterfront. He also established himself as a painter, and his canvases were exhibited at BU and other Massachusetts universities, as well as in commercial galleries. In 1969 he was one of a dozen designers featured on the cover of the Sunday Globe magazine for an article on leading Boston designers.

In 1971 Parker packed his bags and moved to Total Loss Farm, a commune in southern Vermont established by a small group of college friends. He followed that hiatus with a return to BU in the mid-70s. He became art director of Bostonia in 1979 and "produced a great deal of distinguished design over nearly two decades," according to Bostonia Editor Jerry Hickey. More than a dozen magazine pieces and other projects he designed won design awards.

A fine eye and a green thumb

While Parker "dedicated himself emotionally and intellectually to his work at BU," says Shavelson, "he had an equal commitment to his parallel life on Martha's Vineyard." There he owned a 1760 farmhouse and the adjacent Vineyard Studio/Gallery, which he made nonprofit following a zoning dispute with the Tisbury, Mass., Board of Appeals. The gallery exhibited art, but nothing was sold on the property. The venue earned a reputation for encouraging local artists whose work Parker championed. "That enouragement of other artists, some of whose work appeared in the pages of Bostonia, could be his most lasting legacy," says Hickey.

Equally tangible is the lovingly tended three-acre garden behind the farmhouse. Parker, who studied landscape architecture at one point, worked on the garden for about 20 years.

"Gardening may have been his deepest passion," says Hickey, "and I believe it was the one that gave him the greatest pleasure and solace, especially during the last year of his illness."

Friends and colleagues at the University are planning a memorial.