Departments




| | |
| --- | --- |
| Week of 21 November 1997 | Vol. I, No. 13 |

Feature Article

BU community treats Allston-Brighton neighbors to Thanksgiving dinner
by Eric McHenry
Thanks won't be all that's given this Thanksgiving. And turkeys won't be the only things stuffed. The Thanksgiving Coalition, an alliance of BU student groups, is again gathering the "Turkey Buck" envelopes that help fund the food baskets it provides for disadvantaged families in Allston, Brighton, and Brookline.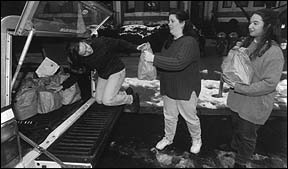 Rachel Voss (ENG'98), Heather Curry (SAR'98), and Thanksgiving Coalition student coordinator Elysa Kenger (SAR'98) prepare to move bags of donated food to temporary storage. The Allston-Brighton Food Pantry will distribute the bags to low-income families. Photo by Kalman Zabarsky
---
Every year, faculty and staff "stuff" the circulated envelopes, then return them to the Coalition, now in its sixth year. Various fundraising events, such as the November 7 Thanksgiving Coalition Benefit Concert, at which student a cappella groups performed, net additional money, and member groups collect foodstuffs by placing paper bags with attached donation requests on doorsteps in Brookline.

"The idea has generally been to provide three days worth of food, including Thanksgiving dinner, to folks in Allston and Brighton, and we've also helped some Brookline families in the past," says Director of Public Information Michael Ciarlante, the Coalition's faculty advisor. "The Allston-Brighton Congregational Church has a food pantry, and we've worked with them for the past few years. We've told them, 'Save your money for other times. We'll take care of Thanksgiving dinner for you folks.'"

Coalition coordinator Elysa Kenger (SAR'98) says involvement is not limited to particular segments of the student population.

"I have volunteers from just about every college, just about every year -- from freshmen to graduate students helping out. This year we got a lot of support from SMG and CAS. The RHAs have also been a great help."

Considerable support is needed to make the seven-week endeavor a success, she says. Some corporate sponsorships will be of assistance this year. Naya is donating a truckload of bottled water, and Budget is contributing trucks for transporting the baskets.

This year's fundraising goal is $6,000, a quarter of which, the Coalition hopes, will be donated by faculty and staff. Ciarlante says the outlook is good for making both marks.

"Things seems to be moving in that general direction this year," he says. "Everybody has come to believe in this, and in the past it clearly has been the single biggest one-day effort for the Boston University community."