Departments
Arts




| | |
| --- | --- |
| Week of 21 November 1997 | Vol. I, No. 13 |

Arts

Student sculptures grace SMG
David Connolly (above) with his sculpture Teamwork and Bethany Shorb (below) with States of Growth. Photos by Kalman Zabarsky
by Joan Schwartz
It's not often that an undergraduate sculpture major has the opportunity to compete for a commission to create a sculpture for a multimillion dollar building, but this is just the challenge presented to students in a junior/senior level architectural sculpture course at the School for the Arts.
Until the 1995-96 school year, students in the class chose sites and presented proposals for hypothetical sculptures to fit those locations. In the spring of 1996, however, the challenge became real. School of Management Dean Louis Lataif approached Bruce MacCombie, dean of SFA, about incorporating student work into the new SMG building. They asked students in the architectural sculpture class to submit proposals for sculptures to be placed in niches in the elevator lobby on each of the six floors. Students presented models of their designs for the settings, prepared budgets including materials and artist fees, and were ready to answer questions from a panel of jurors, including Lataif and MacCombie and the architects of the SMG building, Bill Smith and Paul McGowan of the Cannon firm.
"It's been a wonderful learning experience for all of the students," says Kitty Wales, a sculptor and SFA assistant professor, "not only the ones who were selected. They worked really hard on the artistic aspects of the work and learned to present themselves and their work convincingly to a very demanding audience. The students developed skills that will serve them well throughout their careers."
"The judges asked really difficult questions," says Hiroko Kikuchi (SFA'96), one of two student sculptors chosen the first year. "They asked about things I hadn't really thought of: 'Could it be scratched?' 'How would it be anchored in the space?' I really learned what it takes to do a site-specific work." Kikuchi's ceramic sculpture Tree, a symbol of growth and wisdom, was selected for the fourth floor, and Woman, a cast concrete statue by Hildy Ng (SFA'96) representing strength and protection, was chosen for the second floor.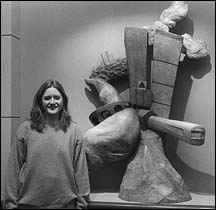 Rebecca Kading (above) with City Scape and Yoko Ichikawa (below) with Double Growth. Photos by Kalman Zabarsky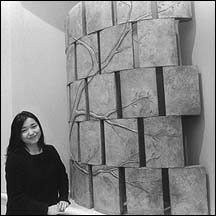 Four additional sculptures were selected from a group submitted by the class the following year: Double