Welcome to the BUAS!!!
PLEASE visit our new site here (http://blogs.bu.edu/buas/) This site is an older version and is no longer regularly updated. It is maintained for posterity, currently. Thank you for your interest in the BU Astronomical Society.
NEWS
End of September: Great observing trip, pictures should be up soon. Professor Janes will be talking this month about astronomy topics and his research.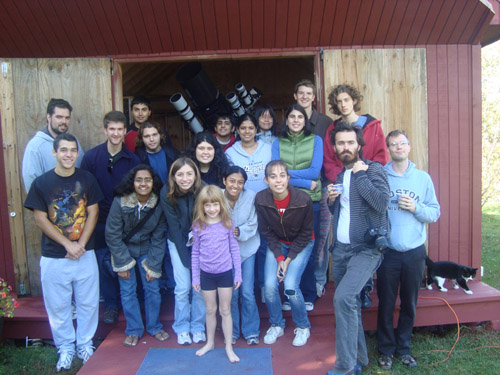 September 2009: Welcome back! Our first meeting is September 6th, Sunday at 8 pm in CAS, room 502. Join us for some ice cream and information concerning the upcoming observing trip to Maine. We are looking forward to a great year of awesomeness and clear skies(?...thank you Boston)!!!
---
We are a student-run group for anyone who has an interest in astronomy. Whether you study physics or finance, we are open to all undergraduates in the BU community. The only prerequisite to joining us is the ability to displace yourself to the 5th floor of CAS.
We meet Sundays at 8:00 pm, typically in CAS 502. On clear nights, we often migrate from there to the roof of CAS for some night observing of both the sky and the Boston skyline. Past activities have included movie nights, telescope building, trips to Boston-area events, and overnight voyages into the country, in search of darker skies.
To keep up to date on upcoming activities, you can sign up for our Mailing List.