Introduction
It happens every day at BU. Research that will change the world. Scholarship that's nationally known. Teaching that's beyond superlative. Learning that will affect the lives of our students forever. Whatever "it" is, you can be sure that BU does it, and does it extremely well.
In fact, that's what this year's Annual Report is all about: all the "its" that occurred between July 1, 2010, and June 30, 2011. We could easily do a simple list here—a compendium of sound bites showcasing the quantity of things that happened during 365 days. (Even then, the list would be incomplete.)
But to really understand the quality of what goes on here, you need to dive a little deeper into the caliber of all this year's feats. The more you uncover, the more satisfying these achievements are, and the more you'll learn about the essence of the BU experience.
"Every year at this time, I'm amazed to look back at what we manage to accomplish in 365 days. So this year's Annual Report tries to single out those happenings from FY 2011 that are truly noteworthy."

Robert A. Brown, President
For example:
This year BU Medical Center was one of 10 medical institutions to introduce an accredited residency program in addiction medicine. As reported this summer in The New York Times, doctors who have completed medical school and a primary residency now will be able to spend a year studying the relationship between addiction and brain chemistry.

The rules of contact in football and other sports have been dramatically changed thanks to the ongoing research on concussions by BU's Center for the Study of Traumatic Encephalopathy.

Over the year, the University hired 45 new faculty members (including 17 new positions) on the Charles River Campus, and 48 on the Medical Campus.

We made huge strides when it came to sustainability on our campuses. The highest impact on our energy usage has come from our ongoing effort to convert our energy systems from oil to natural gas, which has resulted in substantial budgetary savings and a reduction of 3,800 metric tonnes annually of CO2 emissions at our central heating plant alone.

We broke ground on the new Center for Student Services at the Kenmore Square end of the Charles River Campus. The 100,000-square-foot structure is scheduled to open in September 2012 and will change how the University serves its students for decades to come. Pretty good, yes? But that's just the beginning. You'll find much more here. We hope you enjoy it.
To our alumni and friends,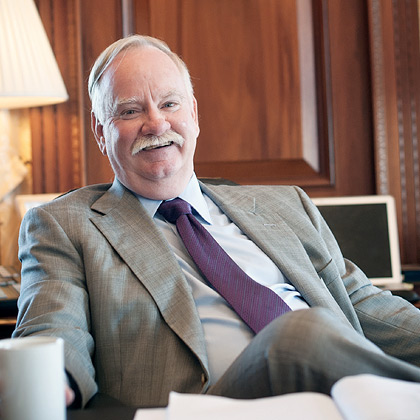 "It was one of those afternoons which seem indefinitely long before one, in which many events may happen . . . "
Instead of his life in the woods at Walden Pond, Thoreau might have been speaking about a single day in the BU calendar.
Every year at this time, I'm amazed to look back at what we manage to accomplish in 365 days. So this year's Annual Report tries to single out those happenings from FY 2011 that are truly noteworthy. It's more than just a catalog of events, though; it's an exploration of the phenomenal occurrences—both high-profile and subtle—that comprise an academic year. Here are just a few memorable entries:
This fall's new freshmen are among the brightest and best students ever admitted. The admissions department called this the "single most competitive year ever."

Trustee Bahaa Hariri (SMG'90) pledged $15 million for a new computing institute.

The National Cancer Institute's Alliance for Nanotechnology in Cancer awarded the BU Nanomedicine Initiative team a five-year, $2 million grant to create a nanomedicine training center.

Computer science professor Mark Crovella received a National Science Foundation award of $3 million for a five-year smartphone security project.

The University began construction of the new Center for Student Services on the East Campus, the first facility to be built solely for students since the George Sherman Union in 1963.
I invite you to read this Annual Report to see how BU is, in every sense of the word, a happening place.
Sincerely,



Robert A. Brown
President