Reflecting on BU Women in Politics: Jennifer Grodsky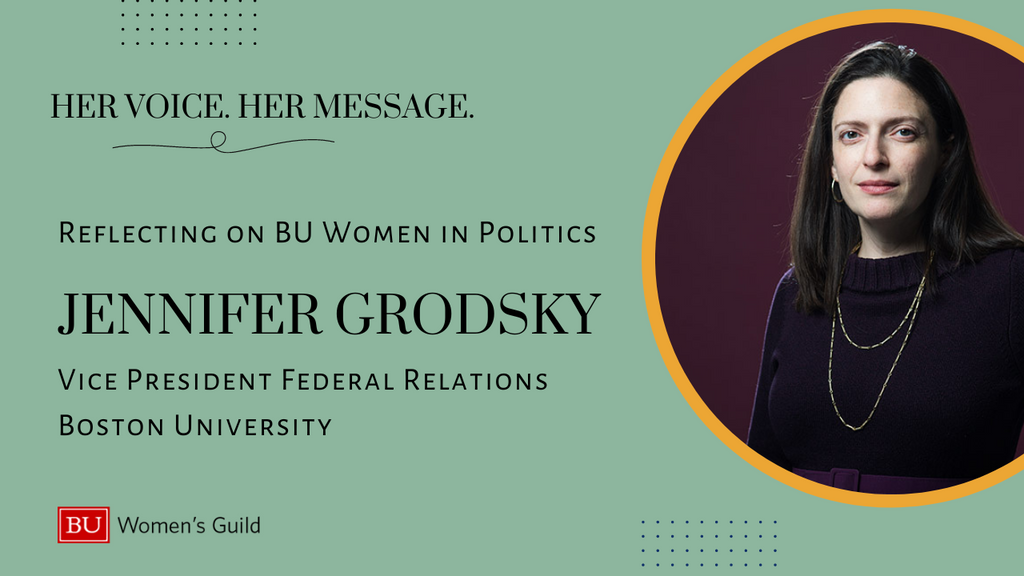 As we begin Women's History Month, I have been thinking about the trailblazing women in Congress who have graduated from Boston University.
Women like Representative Barbara Jordan (LAW'59, Hon.'69) of Texas, the first Black woman elected to Congress from a southern state and the first woman to deliver a keynote address at the Democratic Convention. Women like Representative Connie Morella (CAS '54) of Maryland, who sponsored the legislation that created the Martin Luther King, Jr. Memorial on the National Mall.
But BU alumnae in Congress aren't just historical figures. Today, the BU alumni serving in the U.S. House of Representatives are all women and they continue to capture national attention.
Today, the BU alumni serving in the U.S. House of Representatives are all women and they continue to capture national attention.
Congresswoman Alexandria Ocasio-Cortez (CAS '11, PAR '11) became the youngest woman to ever serve in Congress when she defeated a long-serving incumbent congressman in Queens, New York in 2018. Her forceful arguments on the House floor and insightful questioning of witnesses who testify before her committees routinely shift the narratives on national policy, dominate headlines, and "go viral" on social media.
Congresswoman Ayanna Pressley (Hon. '21) attended the College of General Studies; her Congressional district includes BU's campuses. When she was elected to the U.S. House of Representatives in 2018, she became the first woman of color to represent Massachusetts in Congress. Her insistence that "those closest to the pain should be closest to the power" has made her a hero to many.
Congresswoman Lois Frankel (CAS '70) of West Palm Beach, Florida, is chair of the Democratic Women's Caucus. She speaks fondly about her political activism while at BU, joking that she "majored in protest" while on campus.
The newest BU alumna in Congress was sworn in just this year. Congresswoman Jen Kiggans (PAR '93) is a former Navy helicopter pilot who represents Virginia Beach.
So, which trailblazing women from BU will head to Congress next? I can't wait to find out.
About the author: Jennifer Grodsky is BU's Vice President for Federal Relations, working from Washington, D.C. to strengthen the University's ties to federal agencies and policymakers.
About Her Voice. Her Message. Expertise, diversity, philanthropy, and fellowship are woven throughout the Boston University Women's Guild, Women of Color Circle, and the greater BU community. This series taps into the University's professional, academic, and philanthropic network, and proudly welcomes a variety of voices, experiences, and expertise.
Explore our website and learn more about membership opportunities.