Big Fat Books: Ulysses at 100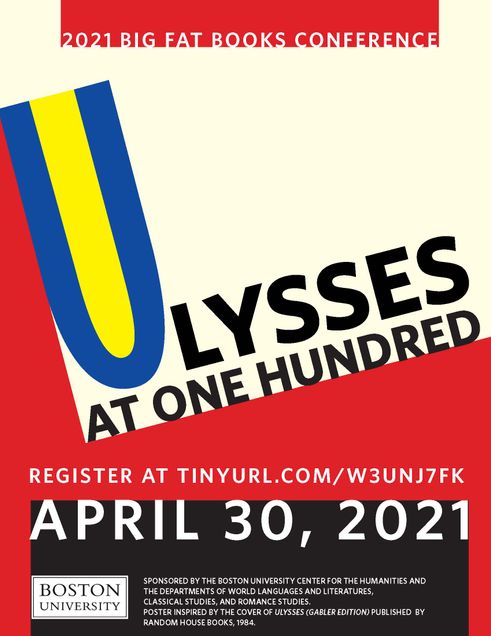 Fourth WLL Big Fat Books Symposium, Spring 2021
Ulysses at One Hundred
Friday, April 30, 2021
Click here to register for the event
Published in 1922, Ulysses is now nearing its hundredth anniversary. The many and diverse questions the novel raises, including its relationship to Homer and its global impact, bring together Classical Studies and World Languages and Literatures with English, Romance Studies (Joyce's most important intertext after Homer being Dante), History, and, given Joyce's theological obsessions, Religion.
While Ulysses is universally seen as a seminal work of English Modernist literature, the issues it raises go beyond the purely literary. These include not only the relationship of the public and private spheres and of history and the individual, but also questions concerning Joyce's self-exile from Ireland, the deliberate apparent exclusion from his narrative, set in 1904, of the Great War, his understanding of Ireland as a nascent and / or revived nation, problems of post-colonialism, and the place of Ulysses within an epic tradition including not only Homer, but also Virgil's Aeneid and issues of Roman imperialism, Dante and problems of Christian hegemony, Shakespeare and the relationship of author to text, Milton and the relationship of epic to history, and even Mozart's Don Giovanni.
Ulysses, in addition, deliberately introduces into the "high-brow" genre of epic an obsession with popular culture and a bumbling advertising man as protagonist. It also explicitly challenges popular conceptions of sexuality and gender relations and is a work obsessed with reception, and a specifically polyglot and post-colonial reception at that. The novel has experienced an extraordinary spread of interest throughout the globe over the course of the last hundred years, including in Russia, Japan, South America, China, India, the Arabic world, and Eastern Europe, a response that echoes Joyce's own interest in setting the purely parochial onto a literary world stage. In addition, the history of the novel's publication raises questions of censorship, copyright, international access and national appropriation, as Ireland's initial and utter rejection of the work has been transformed into an adoption of it as definitively "Irish." This effect also appears globally, as Ulysses raises questions about what it means for a novel to be universally acknowledged as defining the modern world, while yet so little read.
Our day-long symposium, titled "Ulysses at One Hundred" features a keynote address by Vicki Mahaffey (University of Illinois at Urbana-Champaign) and concludes with a student panel in which BU students currently studying the novel will comment on passages they have chosen.
The event will be held virtually and is open to all.
Ulysses at One Hundred
Friday, April 30, 2021
9:00-9:15                       Greetings
9:15-10:20                     Keynote Address
                                             Moderator, Diana Wylie (History; African-American Studies)  

Vicki Mahaffey, University of Illinois at Urbana-Champaign:
Changing Perspective: Why Style and Structure Matter in Ulysses
10:20-10:30                 Short break, with Joycean music
10:30-11:30                   Panel I: Reception of the Odyssey: moderator, Zsuzsa Varhelyi (Classics)
Stephanie Nelson (CL)              Ulysses and the Odyssey: Heroism, and Not
Stephen Scully (CL)                    Molly's Monologue and Penelope's Dream
Peter Schwartz (WLL)               Joyce's Clinamen
11:30-1:00                     Lunch
1:00-2:05                       Panel II: Global Ulysses: moderator, Susan Bernstein (English)
Keith Vincent (WLL)                  Ito Sei's Japanese Odyssey
Carrie Preston (EN)                   Ulysses, Movement, Migration
John Paul Riquelme (EN)         Queer Temporality & Queer Nationhood in Episodes 9 & 12
2:05-2:15                      Short break, with Joycean music
2:15-3:35                      Panel III: Ulysses in Translation: Roundtable: moderator, Brandon Jones (Classics)
Anna Elliott (Polish and Japanese)
Margaret Litvin (Arabic and Russian)
Zsuzsa Varhelyi (Hungarian and Latin)
Anita Savo (Spanish)
3:35-3:45                      Short break, with Joycean music
3:45-5:00                     Student Panel: moderator, Stephanie Nelson (Classics, Core)
Maggie Farren                "So much dead weight": Rumination and Guilt in Joyce's Ulysses
Andrea Wetzler              Mothers and Social Disease: Ambivalence in Isben's Ghosts and Ulysses
Zowie Rico                       Nationalism and (Anti)Heroism in "Cyclops"
Kalliope Glavas               Joycean Pub Culture: The Role of Alcohol in Ulysses
Zainab Jafri                     Bloom's Flourishing in the Desert of Dublin
5:00-5:30                        General Discussion