We Must Keep Striving to Do Better
A message from Dean David J. Chard
I know each of you woke Wednesday morning with a heavy heart over the events in Uvalde, Texas—the horrific murders of children and adults at the Robb Elementary School. There are no words I can put in this message that will make any of us feel better or will address the deep challenge of gun violence in our nation.  I write only to acknowledge that our children and educators are in classrooms to teach, learn, and grow—and sadly, are easy targets for this violence.
Already, I have been asked by media sources what stance we take on school safety, how do we as a college help schools to make their school safety plans more inclusive, and how do we support the mental health needs of children in order to prevent these acts from happening. These are all good questions, but not the right questions related to yesterday's shootings—or Orlando's or Sandy Hook's or others. This is not a problem for teachers, counselors, and principals to fix. In fact, in my view, it is important that we resist even pretending to assume responsibility as a profession for solving mass shootings in schools.
But what do we do?  First, we need to continue to prepare education professionals who are effective, compassionate, and dedicated to the work that happens in schools, clinics, and other settings. We must continue to pursue questions about the impact of trauma on learning and mental wellness, studying ways to identify who needs mental health support and how to deliver it effectively. And we must lead in ensuring that learning and positive physical and mental health support is accessible to all children and their families. In brief, we have to do what we do and keep striving to do it better.
There is more.  We need to find the energy to mobilize, to speak out against policies that allow gun violence to continue, and to raise our voices for positive change.  This means voting in every election, being advocates for efforts that promote change, and not allowing ourselves to be desensitized to mass shootings as members of the public. All of these things will not reduce the risk to our preK-12 colleagues and their students in the short term. But we have to hope that we can make positive change in the long-term.
Today, contemplate the pain that the families in Uvalde are feeling, speak out about this issue, use your social media presence to raise this issue beyond the short news cycle—and tell your children, your grandchildren, and their teachers how much you love them.
Resources for responding to the Robb Elementary School shooting from the National Child Traumatic Stress Network
NCTSN Resources in Response to Robb Elementary School Shooting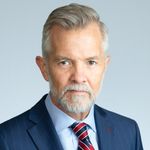 David J. Chard is the dean of BU Wheelock College of Education & Human Development.