Three BU Wheelock Students Honored with Undergraduate Academic Achievement Awards
Three BU Wheelock undergraduates were honored for their scholastic achievements. Seniors Alexi Man, Michelle Pecoraro, and Alaina Santos received the 2022 Undergraduate Academic Achievement Awards during this year's Convocation event, held May 20, 2022.
 Currier Award Achievement in Science Education: Alexi Man'22
This award is given to a deserving female student, in her third or fourth academic year, who demonstrates scholastic achievement in the field of science education.
Alexi Man studied science education at BU Wheelock, and pursued both educational policy research at the Center on the Ecology of Early Development (CEED) lab and education licensure coursework, which gave her the opportunity to teach in a sixth-grade science classroom. In her time at BU, she developed a passion for advocating for and making visible the Asian American, Native Hawaiian, and Pacific Islander (AANHPI) voices in education. In the future, she plans to pursue a master's of education in Educational Leadership & Policy Studies.
Peter Foukal Award Achievement in Math & Science: Michelle Pecoraro'22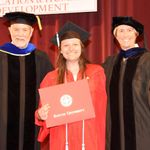 The  award recognizes a BU Wheelock senior who has achieved academic excellence in math or science.
Michelle Pecoraro studied math education at BU Wheelock, where some of her favorite classes revolved around mathematical exploration and discovery, which she hopes to incorporate into her own teaching practices. She hopes to use the tools and resources she acquired as a student at BU Wheelock to have an impact on the field of math education. She says she is "deeply grateful for her time at Boston University and excited to continue working with students as an educator."
Dean's Academic Excellence Award: Alaina Santos'22
Given annually to a graduating senior to acknowledge and honor outstanding academic achievement during their attendance at BU Wheelock.
 As a student at BU Wheelock, Alaina Santos studied elementary education with a subconcentration in moderate disabilities. Her research focused on diversity in children's literature book lists located by pre-service teachers. In April 2022, she traveled to the annual American Educational Research Association's (AERA) annual conference to present on this research, which will be published in AERA's journal. She plans to start her career as a classroom or special education teacher and to eventually go on to get her master's degree.