SED Alumna, Svea Schreiner, Leads Professional Development Retreat for New Teachers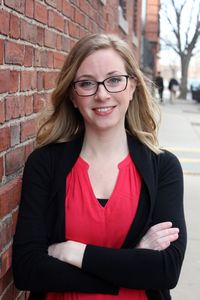 School of Education alumna, Svea Schreiner (SED'17), is doing something about the rate at which new teachers are stepping away from the profession.
Schreiner has worked in conjunction with mostly New England-based educators to create the New Teachers Retreat, a three-day professional development seminar at Keene State College in Keene, NH. The seminar is for educators who've completed at least one year of full-time professional teaching, but haven't yet surpassed the three to five year teaching threshold.
A 2017 article in the Washington Post cites a report by the Learning Policy Institute, which found that in the U.S., "Between 2009 and 2014, the most recent years of data available, teacher education enrollments dropped from 691,000 to 451,000, a 35% reduction. This amounts to a decrease of almost 240,000 professionals on their way to the classroom in the year 2014, as compared to 2009." Troubling? To say the least.
Given this need, Schreiner, Curriculum Director, and her sister-in-law, Alexandra Stewart (SED'15), Executive Director, decided they could actually provide an opportunity to empower new teachers all across America, "We both had very direct experiences with how difficult it is to be a new teacher. It's a really difficult job and often times you're just surviving those first two, three years."
Schreiner continues by saying the offerings of most professional development events concern veteran educators who seek to polish current teaching techniques or those looking to build upon their knowledge base. For educators just starting out, however, help can be a bit more difficult to come by. With the New Teachers Retreat, the aim is to provide them with the advice, encouragement, and developmental training they'll need in their first few years. It also presents a network of other new teachers to put forth the notion that they aren't alone at this stage of their professional journeys.
One of the first activities of the retreat is teachers opening up about any mistakes, gaffes, or blunders they've made in the classroom. The hope here, Schreiner says, is to break the ice, so that everyone participating feels more comfortable about sharing their own stories with the group. In addition to exercises like these and informative workshops, there are more social outings, such as bowling, hiking, and yoga.
As the 2018 retreat takes place from July 13th to the 15th, the intention is for attendees to reflect on the school year they've just had, build new skills for the next year, and gather a support network of professionals in the industry, many of whom are in the same positions as one another. While about half of last year's group paid the $350 event cost – all expenses included – the rest were able to attend at no charge via their school districts. Schreiner also says they've been working to attract more organizational involvement, such as through sponsoring, to create additional avenues for teacher attendance.
If you have interest in the New Teachers Retreat and would like to learn more, please visit their website here.