Mentoring
Mentors make an impact: CASS programs retain and graduate scholars at rates higher than the University average.
All of the CASS undergraduate programs entail a faculty or staff mentor. These mentors volunteer time during their workday to share themselves and their experiences with undergraduates.
Mentor Stories
Nancy Lowenstein – Former BPS Community Service and two-time Posse Mentor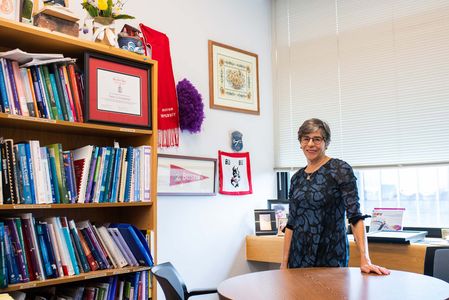 Nancy Lowenstein discusses her experiences mentoring for BU Today's Office Artifacts.
Diana Hughes – BPS Community Service Mentor
Program Administrator, Undergraduate Research Opportunities Program: Diana was a transfer student to BU herself. When she signed up as a BPS Community Service mentor, she specifically asked to mentor incoming transfer students. "… I know how overwhelming BU can be to new students. Transitioning to a new University and working to navigate life inside and outside of the classroom can provide unique challenges to BU's transfer students… students benefit from having not only a guide and mentor who knows the system, but also by having a cheerleader who is on their team… someone sending them a good luck text before a big exam ro talking to them when they are struggling to balance academics and extracurricular activities. Mentoring has made me a more compassionate and understanding administrator. It has given me insight into how my office can better assist and reach out to students. On a personal level, I feel like I am able to give back to BU and provide the very guidance I received from my own professors, advisors, and mentors when I was a student. It feels great to see your mentees grow, push through challenges, and find themselves."

Marisa & Mo – Hayden Mentors
Marisa Milanese and Mo Lee are the first mentors for the Hayden Scholars program, and our first husband-and-wife mentor team. Each are assigned to three of the six Hayden scholars on campus.
Marisa Milanese, Master Lecturer, CAS Writing Program:  "… I decided I wanted to mentor to contribute to BU's commitment to diversify its student population. Student like the ones I'm working with are some of the brightest we have, and we need to ensure that we support their ambitions and interests. Mentoring has helped me to see some of the barriers that are invisible to many. It has made me rethink some of my class policies and materials. It has reinforced my love for what I do: in my mind, there is nothing more meaningful than supporting young people at this pivotal moment in their intellectual and personal lives. From my perspective, I love that I get to do this with Mo, not just because I'm married to the guy, but because it's been fun and enlightening to compare notes."
Maurice "Mo" Lee, Professor of English: I believe in the social mission of higher education—that college should be a ladder of opportunity for a wide range of students and promote social mobility and intellectual growth for students regardless of their background. Mentoring helps remind me of these ideals. I think everyone at some point asks themselves, 'What's the point of my professional life? What's the real value of what I'm doing?' Being a mentor has helped me answer those questions."
Become a Mentor
We recruit mentors on a rolling basis during the spring semester. They provide a resume and statement of interest, and must be available for a half-day training during the summer prior to the academic year they intend to begin mentoring. Please complete the CASS Mentor Application or reach out to Clare Fitzgerald (crffitz@bu.edu) for more information.