Professors Rani, Martinelle Collaborate on Student-Centered Interdisciplinary Research Study
In the fall of 2017, Dr. Swati Rani knocked on the door of her new colleague, Dr. Rob Martinelle. The conversation that day began with the simplest of questions – "How can changing the actual assignments of how students write reflections be an inquiry into practice?"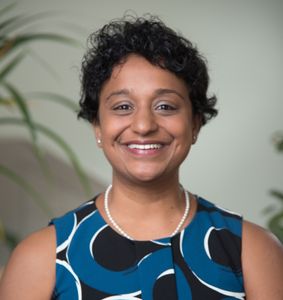 This question immediately drew out a shared epistemological stance on what counts as knowledge and scholarship as teacher educators from their relationship with Dr. Marilyn Cochran-Smith, the Cawthorne Professor of Teacher Education for Urban Schools at Boston College's Lynch School of Education. Professor Cochran-Smith has studied the concept of practitioner inquiry, or teacher research, throughout her career, and instills this practice into the educators she trains.
It was through this mutual curiosity that the two Wheelock professors saw an opportunity to aid students of their ED 110 and SO 210 and 211 courses by working to link together crucial aspects of each curriculum.
Wheelock undergraduates who take Dr. Martinelle's ED 110 foundations course, "Introduction to Education," are then required to take Dr. Rani's SO 210 and 211 courses, "Confronting Persistent Social Inequalities in American Schools: Educational and Sociological Perspectives," and "Confronting Racial, Cultural, Gender, and Social Identities in Urban Classrooms: Educational and Sociological Perspectives," respectively.
Due to the overlap in subject matter and with the students themselves, it became apparent that interdisciplinary collaboration could lead to a positive evolution of their current teaching structures.
During the 2017-2018 academic year, they started meeting on a weekly basis using a series of interactive dialogue and posted notes on pedagogical problems of practice, intellectual scholarship, and the emotional labor of teacher education via a closed Facebook group. The two educators also utilized many "walk-and-talks" along the Charles River as a way to build through a model of colleagues as family.
Drs. Rani and Martinelle took up new ways to showcase the process of teacher vulnerability to their students. Dr. Martinelle started making his own reflections public on a Facebook page and turned it into a formal research study this past spring. Meanwhile, Dr. Rani drafted a series of "letters as lectures" based on current contemporary issues in society, which will be shared weekly with her students during this upcoming year.
Another area of curriculum shift for both professors was seeing how the use of the arts, film in particular, connected students. This offered a new method to not only bridge students' understanding of one another, but assess their learning as well.
These discussions led Dr. Rani to offer her students the seemingly unorthodox option of composing a film review rather than completing a traditional final exam. Popular Disney movie, "Zootopia," became a film of choice among students as it allowed them to analyze policing, hegemony, and interpersonal relationships given a lighthearted context.
"I told them, 'watch the movie, imagine you're getting a cup of coffee with me and just tell me how the movie relates to our class.' You could see their stress levels go down and the excitement go up," she said.
Not solely a film for children, Dr. Martinelle explains, "[Zootopia] works on so many levels. Kids certainly love it, but if you're an adult and critically minded, there is so much to analyze."
Dr. Martinelle uses this format as well, and during the fall and spring semesters, offered his class choices in taking the final exam.
"There's so much analytical writing that they do in my course, so this was a chance for me to say, 'I'm not going to privilege this knowledge anymore. I want to privilege a different form of understanding that really speaks to you.'"
Several students created art work and some pursued spoken word poetry about what they've learned, which helped cater their knowledge to their strengths.
"Quite frankly, if I didn't give them that opportunity, I would be a hypocrite."
The use of film was so impactful that this fall, Drs. Rani and Martinelle have planned a monthly film series that all Wheelock students will be invited to as a continuation of "Education on Film," an initiative the Pickering Library started this spring.
They recently met with co-planner and instructor of Early Childhood Education, Liz Zigmont, to put their ideas into action. The current catalog for what they're calling "Fall in Films" is: Inside Out, Black Panther, and the documentary, "It's a Beautiful Day in the Neighborhood."
Film isn't the only alternative, though. During the spring semester, in lieu of a formal exam paper, a dozen of Professor Rani's students presented their learning and framework for multicultural education at the annual Boston-area Educators for Social Justice Conference.
The hope is that all of this will create out-of-the-classroom bonding experiences, which allow for analysis of social topics within the scope of education. However, with an overarching question needed to serve as a reminder for the basis of this work, Rani and Martinelle posed the following as they formalized their study this past month:
How do our weekly research based dialogues, writing, and curriculum planning, on inquiries of practice in three foundational educational courses, illuminate teaching of anti-oppressive education and for themes of social justice?
Many of these innovative approaches to teaching and gauging of student understanding were introduced last year, with the response being overwhelmingly positive. Now, going into year two of these trials, tangible data and feedback are the central focus.
"Each of us are teaching toward outcomes we might not ever see, and part of the emotion of teaching is learning how to cope with that," explains Martinelle, "because we're not teaching for something that's easily measurable."
While it may add to the work for educators initially, as rubrics and curricula are revised, Dr. Rani is excited to be able to provide her students new pathways for them to showcase their understanding.
"We're trying to cultivate a disposition," says Dr. Martinelle, "and a voice," Dr. Rani adds.
Professor Rani explains that in order to achieve intended results, trust and safety must be part of the equation. Trust in that with this shift, students will be open to less conventional modes of learning, and safety in the comfort students must feel when expressing themselves through these assignments.
The combining of Wheelock College and Boston University's School of Education also weighed heavily on their thought processes, with Dr. Rani stating,
"This merger includes the joining of strong legacies of teacher educators committed to foundations of education coursework. Together, our courses are a two-year curriculum that expose young adults to key themes around social justice and the history of schooling as a public square."
Contrived collaboration is another term used frequently in describing the contrast between building academic standards artificially and the steps necessary to create this trust and safety between one another and with students.
Professor Martinelle mentions one of the more noticeable benefits of sharing his teaching reflections each week was that, "[His students] were becoming accepting of how problematic teaching is." Part of his goal is to show them that facing ambiguity as a teacher should be met with enthusiasm, not panic.
Year two of this partnership will look to solidify the relationship of both lecturers by turning carefully-designed curriculum into impact data that they will now formally study.
"You have to breathe before you can build," says Dr. Rani, "and we are now ready and excited to build a stronger curriculum that will benefit the foundational courses of education all our students take."