Boston Students Visit BU Campus During STEM Week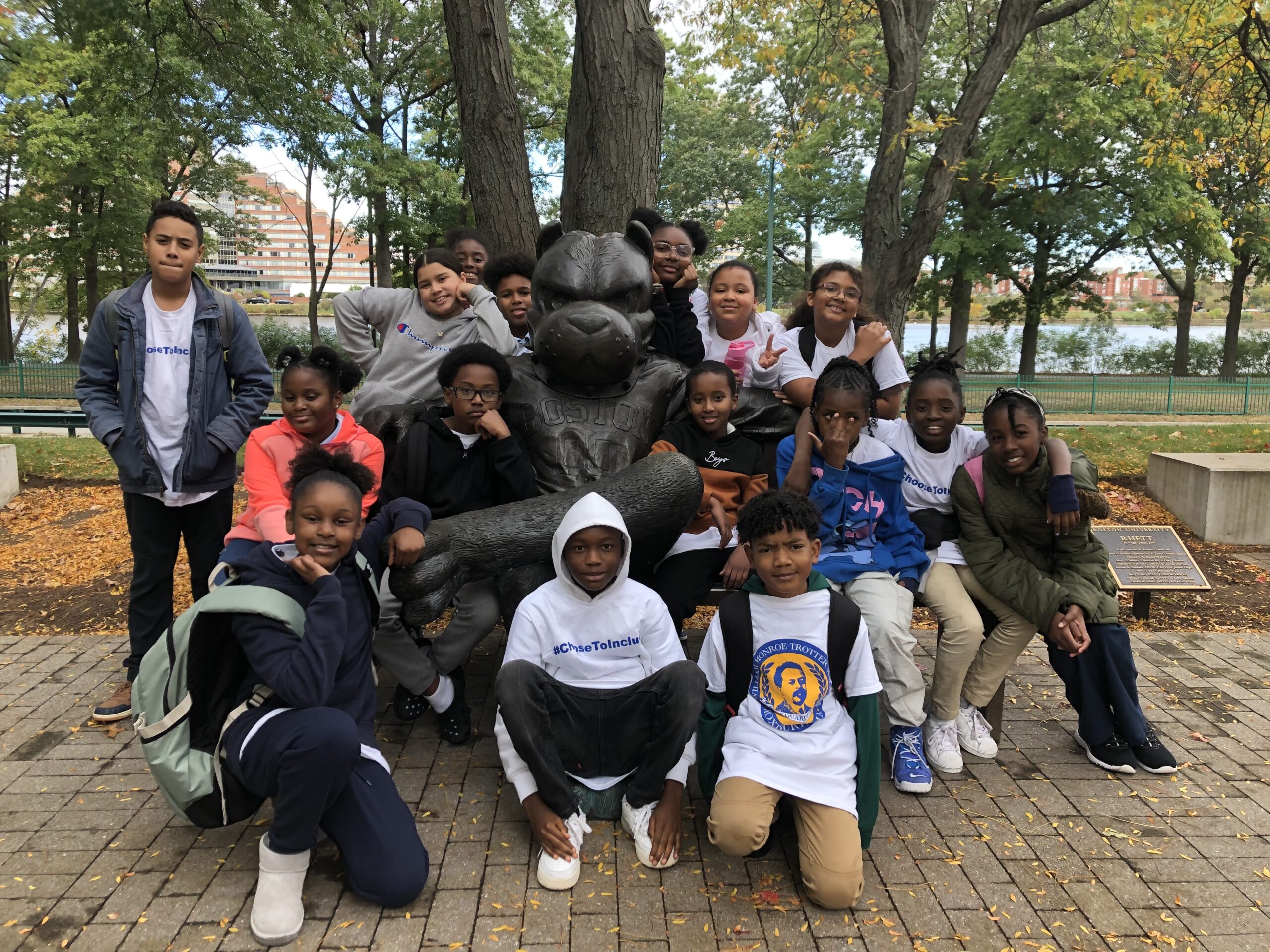 Blog
Boston Students Visit BU Campus During STEM Week
On October 16, Massachusetts Lt. Governor Kim Driscoll signed the proclamation recognizing Massachusetts STEM Week during a kick-off event held at the Boston University Center for Computing & Data Sciences. There were 130 people in attendance the event, including students, educators and state/industry leaders on the STEM Advisory Council.
In addition to Driscoll, several others addressed the audience to talk about the importance of STEM, including Massachusetts Secretary of Education Patrick Tutwiler, BU Provost Ken Lutchen, BU student Mohamed Mohamed (ENG'25), and Brat J. Luciano Noboa (10th grade student at Boston International).
Among the participants at the kick-off event were a group of 47 fifth and sixth graders from the William Monroe Trotter School in Dorchester, Mass. BU Wheelock maintains a partnership with Boston Public Schools through which we place elementary education undergraduates at the Trotter School to observe and teach children in reading, writing, social studies, and science classes at several grade levels. The students attending the kick-off event are among those in the classrooms where our undergraduates are being trained as educators.
Once the speaking portion of this event ended, all participants including students, BU staff, and Massachusetts state leaders were free to visit several informational tables set up by BU and local organizations. Three Trotter students—Terrence Glascho, Zairelys Ramírez, and Yailah Campos—worked with me to engage visitors in STEM activities at a table we had set up. We focused on the concept of sensemaking, that is, how to figure out phenomena and solve problems when we are unsure where to start. This was especially exciting since BU Wheelock just launched a new course for our undergraduate majors on Sensemaking in STEM—one of the first in the nation focused on this topic.
Terrence, Zairelys, and Yailah engaged visitors with a number of interesting STEM activities to get people thinking, including handheld Van de Graaf generators, a drawing robot, and a spinning disk. Visitors seemed most intrigued by the "fruit piano," which is a circuit board hooked up via wires to several items, including a lime, pepper, apple, banana, and aloe leaf. The Trotter students explained to visitors how to make the piano work and how holding the lime was the ground and touching the other items allowed participants to complete the circuit. They also engaged visitors in conversations about how the piano worked and why. It was incredible to see how much the Trotter students have learned about STEM and how they are able to help others to make sense of it, too.
After the event wrapped up, BU Wheelock Dean's Hosts Vanessa Galeana, Ace Mothershed, Maddie Ly, and Kaleigh Wyers stepped forward to help the Trotter students get a full BU experience through a campus tour that included a visit to the Warren Towers Rooftop Garden. The students also loved visiting the dorms—and were especially interested in the pool tables in the student lounge! They also explored campus with a mini-scavenger hunt of landmark Boston University sites.
Last, but certainly not least, we made our way to the prized finale of our BU field trip—Marciano Commons! Once students made their choices (which was not easy, given all the options), they had a chance to talk with BU staff, BU students, Trotter teachers, and their chaperones. Their questions flowed about college life, applying to college, and on and on. This was a tremendous opportunity for these fifth and sixth graders to immerse themselves on a college campus.
Here are some of the comments we heard from the students:
"It was cool to see BU. It's so modern, and huge, and clean. I could totally see myself going there."
"It was cool to see the robots that the students made for the exhibition!"
"The field trip was fun! It was so cool to see the view from the top of the building!"
"The food was so good! We got to make our own waffles!"
Overall, it was a wonderful experience for all involved. While there are too many people to thank for their work in coordinating this wonderful event and trip, a special thank you to Sarita Thomas, principal at the Trotter School, for supporting this field trip and always being there to create such wonderful experiences for both Trotter and BU students.