Stephanie Curenton Receives Grant from Initiative on Cities
Early Childhood
Stephanie Curenton Receives Grant from Initiative on Cities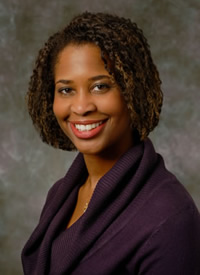 Associate Professor Stephanie Curenton received a grant from the Boston University Initiative on Cities (IOC) to study the impact of her Conversation Compass professional development course.
Curenton developed Conversation Compass to enhance the quality of classroom conversations about early childhood developments for children ages 3–5. With this grant funding, she is modifying the Conversation Compass professional development program, currently being taught in her Jumpstart service learning class, to be suitable for children down to the age of 2 years old.
Curenton will collaborate on this work with Nermeen Dashoush, program co-director for early childhood education, and Kerry Isakson, Jumpstart site manager. Together, they will follow the students in Curenton's Jumpstart class and look at their conversations with early childhood students. The team intends to observe the student's conversations prior to the Conversation Compass training, which entails reading a book and participating in an online course, and then after they've completed the training.
"BU Initiative on Cities is great because it allows faculty members to do this kind of work," says Curenton. "It really allows me to collaborate with my Wheelock colleagues more, so we have an opportunity to get to know each other and see how our interests overlap and collaborates. It's really fun in that way. It's also fun too because it's one way to highlight some of the research that's going on in our early education space."
Curenton is currently serving a two-year term on the IOC's Faculty Advisory Board, which guides the Initiative's strategic priorities and programming, and helps to promote the Initiative's programs with their colleagues and students.
This project is currently in a holding phase awaiting IRB approval.