New Books Explore Relational Approach to Teaching Social Justice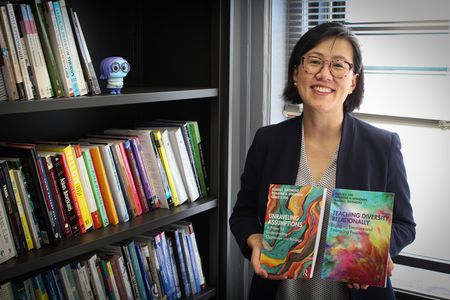 Grace Kim, a clinical associate professor in the Counseling Psychology & Applied Human Development Department at BU Wheelock, is no stranger to holding complex conversations about race, gender, social class, and culture in her classes. A longtime teacher, Kim has used her expertise as a clinical psychologist and educator to foster thoughtful discussions about social justice, oppression, and equity with her students.
"This is my 15th year of teaching, and over the course of my career, I've learned a lot about teaching courses related to race, gender, culture, and social class," says Kim. "As a clinical psychologist, I often think about how to bring psychology into teaching." 
In 2019, Kim approached two colleagues, Karen Suyemoto of UMass Boston and Roxanne Donovan from Kennesaw State University, to crystallize this expertise. The result was two companion volumes, published in 2022 by Routledge.  One of these books, Unraveling Assumptions: A Primer for Understanding Oppression and Privilege, is a reference for students, faculty, and community leaders who want to understand more deeply how systemic inequities affect marginalized people, and how to be allies and advocates. 
"Unraveling Assumptions is for students, faculty, and community leaders who want to facilitate conversations about race, gender, social class, ability, and ethnicity," says Kim. "It's a reference book where we really try to explain multilayered descriptions of each concept." Although the book tackles difficult concepts, Kim and her coauthors aimed to make them approachable for readers. "I think it's written in a way that is approachable–it's not 'textbook-y,'" she says. "It gives clarity about complex concepts."  
The second book, Teaching Diversity Relationally: Engaging Emotions and Embracing Possibilities, is geared toward faculty who want to teach about social justice, diversity, and equity in their classrooms. According to the publisher's website, the book "follows the developmental arc of a diversity course across a semester, exploring how students respond as the course moves into deeper content material and more intense discussions." It also provides guidance for teachers when discussions get heated. "These social-justice-related topics are emotionally laden, and often faculty are not taught what to do with emotions," Kim says. 
Holding conversations about social justice
Instead of piling on more content like PowerPoint slides or readings to explain difficult topics, Kim stresses a more relational approach that focuses on people's emotional reactions to what they've learned. Recognizing the power of emotions can help teachers understand the space they take up in the classroom, and how students might react to it. "Emotional reactions can be very different based on your positionality and your relationship with power and privilege," she says. 
With both books, Kim hopes to support teachers, students, and community members in holding conversations about social justice. She recognizes that teaching social justice, especially amid cultural tensions about discussions of equity in the classroom, can be difficult. But she emphasizes that the rewards of teaching social justice are worth it: "Teaching and learning about these concepts is not only important, but also beneficial," she says. "There are a lot of rewards in terms of self-understanding, understanding of others, being able to create relationships with other people, and contributing to improving society." 
Kim also notes that she isn't the first—or the last—to hold difficult conversations in the classroom. "I'm inspired by the people who came before me and continue to do what I think we should do, and hopefully students whom we teach can make an impact in the world as well and really move toward creating a more just and equitable world for everyone," she says. "Ultimately, I think the goal is to teach in a transformative way. We're not just creating and upholding the same societal norms, but really thinking about social justice."