Born unable to hear, Eric Setzer says he's lucky because his parents and three of his four siblings were deaf, too. 
"I was already exposed to my native language, American Sign Language (ASL), as soon as I was born," says Setzer ('20). More than 90 percent of Deaf children are born to hearing parents, and only a few of them are exposed to sign languages early on. "I had full access to the language where I could communicate and express myself without hiccups or struggles.
"We have our language, tradition, arts, and beliefs," he says in an interview over Zoom, with an ASL interpreter. "All of that stuff gives me something that's worth fighting and advocating for—to preserve our essence of Deaf identity."
Setzer works toward that every day, teaching at the K–12 California School for the Deaf, Riverside. He's also a goalkeeper for the US Deaf Men's National Team. He has played soccer around the world with the US team and hopes to be in goal at next year's World Deaf Football Championships in Mokposi, South Korea. At the same time, he uses what he learned earning a master's degree in Deaf education from Wheelock both in the classroom and on the field working with his students. He knows how tough their path can be.
"I did experience discrimination, rejection, and negligence from hearing people while growing up, and it is something that I will have to live with for the rest of my life," he says. "I cannot and will not let others define who I am based on my 'hearing' status at the first glance, but let my actions in the education field and on the soccer field define who I am."
GROWING UP DEAF
Setzer's parents went to Riverside; they reconnected at a reunion years later and ended up marrying. 
Both parents played on US teams in Deaf sports, his mother in  volleyball and his late father in speed skating. Eric started playing soccer when he was four or so. His first attempt at team play, at the Maryland School for the Deaf when he was very young, didn't go so well, mainly because his teammates didn't take the game seriously; American football was the game that mattered there. His father responded by signing him up for a hearing soccer league without telling him.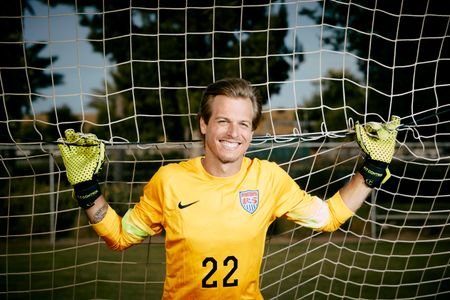 "I assumed that I would be playing with Deaf kids like me," Setzer says. "On the first day of practice, I got confused when I didn't see anyone on the field signing. They were speaking instead. I got scared and refused to join the team. My dad just went out and interacted with the coach and kids by using gestures and notepads instead. The coach agreed to let Dad remain on the team as an assistant coach, so he could help me with interpreting and coach me."
Setzer had no problem being the only Deaf player on the Middletown Valley Athletic Association teams while growing up in Maryland. "On the field, my deafness doesn't define my skill or my ability to play soccer," he says. "I was playing goalie, and I could vocalize. I don't speak well, but I could communicate in a way and gesture so that my hearing teammates knew what I was saying, so that worked out really well." 
"My dad passed away in the springtime when I was in the eighth grade," he says. "I wouldn't be playing soccer today if it weren't for my dad. He was the one who pushed me and believed in what was best for me. He always showed up at every practice and game to be there for me. He never missed a single game." 
One of his favorite memories of his father comes from when he was goalie on an under-12 team in a hearing league, and a big game went to a shoot-out.
"My coaches instructed my dad to tell me to yell outbursts whenever an opponent took a shot to distract them, due to the strange sound made by my Deaf voice," Setzer says. "The opponent was startled when I made that noise, and he missed!" It was a trick he used for a while.
He started high school at a hearing school and played junior varsity soccer as a freshman. Some of his hearing friends even started learning ASL. But he missed "the signing environment, where I could sit and watch peers chatting or the teacher helping a student solve problems in my language." He decided to return to Maryland School for the Deaf even though it meant giving up varsity soccer. He joined the football team as kicker and punter instead.
He returned to soccer when he entered Gallaudet College, America's best-known higher education institution for those who are Deaf and hard of hearing—and his parents' alma mater.
"I was the keeper, which is like the quarterback, controlling everything, and I found myself having a really hard time communicating because my teammates were so focused on the ball," he says. "I would have to run clear across to the other side of the field to explain. It was really frustrating.
"It took us a couple of games before we finally sort of figured out a system, so what they would do is if the ball is out of bounds, then they immediately look at me for instructions. By the end of the season, we were like a well-oiled machine, and then the next season would come around, and we would start back at square one."
At the same time, Setzer tried out for and made the US national team at age 18, with other players of strong skills and better focus. Over a decade with the team, he has sometimes started in goal as they played against other nations in tournaments in Brazil, Italy, and elsewhere.
"I CANNOT AND WILL NOT LET OTHERS DEFINE WHO I AM BASED ON MY 'HEARING' STATUS AT THE FIRST GLANCE, BUT LET MY ACTIONS IN THE EDUCATION FIELD DEFINE WHO I AM."—Eric Setzer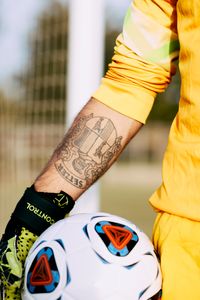 "Even still, sometimes we have to figure out ways to communicate, you know, because some Deaf people can hear better than others," he says. There are differences between players who went to mainstream schools and those from Deaf schools. Some use hearing aids or cochlear implants. Many speak well. Not all are fluent in sign language. And then there are the opponents…
Lacking auditory clues or the ability to communicate vocally, he says, he and the other Deaf players scan the field constantly with their eyes. "We have to play with this picture in our head like, who is here and who is on my left? Who's on my right? What's lucky for me is, as a goalie, I'm at the very end of the field, so I can see everything."
Unlike many teams from other countries, the US players aren't supported by the federal government, so they pay for their own flights, raise money from crowdfunding for big trips, and gather rarely to practice. Setzer plays club soccer with other adults to keep his skills up and works out a lot, but it is a challenge.
At 29, after 10 years with the team, he knows he doesn't have too many seasons left. He's currently the second-string goalie, and "there is a new goalie who's 17, and they're really quite good, and that's my competition."
MENTORING THE NEXT GENERATION
Setzer credits Wheelock faculty with giving him a new approach to teaching bilinguals—Deaf or hard of hearing students who use both ASL and spoken English. "ASL has its unique structure and grammatical rules that students need to get familiarized with," he says. "Once they understand why these are rules we must adhere to, then we transition to English grammar and rules to dive into the complexity of it."
Since ASL is a visual language, Wheelock faculty "showed me how to turn ASL into text information to assess students' works by videoing and recording, utilizing Apple's applications such as Keynote, QuickTime, and iMovie," he says. "Those features are currently in use in my classroom. I use them to evaluate and assess students' critical thinking in ASL response."
Teaching at the school for the Deaf his parents attended, he says, "really feels full circle." He also coaches the school's youngest students in soccer, but he longs to start Riverside's first high school program.
"I would love to build a team that represents the school, and I would love to coach that team," he says, "so that, I think, will complete my circle."