In New Column, Dr. Laura Jiménez Advocates for Teacher Use of Social Justice-Oriented Literature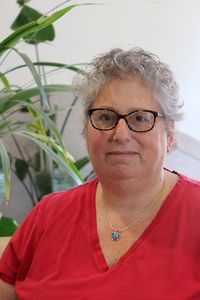 Dr. Laura Jiménez, BU Wheelock lecturer and department chair for language and literacy education, has published "Mirrors and Windows with Texts and Readers: Intersectional Social Justice at Work in the Classroom." The column, published in Language Education, calls for social justice to be an integrated part of the way teachers select texts for their classrooms.
In the column, Jiménez urges English Language Arts teachers to keep social justice at the forefront of their minds as they choose the reading materials they use. One way to do this, she suggests, is to diversify the curriculum by using #OwnVoices texts, which are texts by authors from marginalized or under-represented groups writing about their own experiences.
"Teachers must work to create new norms in their classrooms, which includes thinking differently about the kinds of texts they read with their students," says Jiménez, who keeps a sticky note similar to the image shown to help her center her literary choices. "By reading and learning about the way oppression works in the world, teachers and students  can work together to begin to dismantle these systems by thinking and writing about ways to disrupt them."
At BU Wheelock, Dr. Jiménez applies a social justice lens to her studies of literature and literacy. She focuses on the ways teachers think about and understand systems of inequity and privilege in education, their own roles within those systems, and the texts they use in their classrooms. Dr. Jiménez's work supports teachers' active engagement with Children's and Young Adult literature and critically evaluates the representation of mis- and under-valued communities within children's literature.
Language Arts is the premier journal for the teaching of language arts, focusing primarily on issues concerning children of preschool through middle school age.
Learn more about #OwnVoices texts here.