Faculty, Students, and Alumni Collaborate on Elementary Educators United
On Friday, May 3, a group of BU Wheelock faculty and students involved in elementary education gathered at the Fenway Campus for a day-long program focused on the future of elementary education at Boston University. Designed by faculty members Jennifer Bryson, Eleonora Villegas-Reimers,  and T.J. McKenna, and funded by BU Wheelock's SEED Initiative, the summit focused on two central goals:

Developing a shared vision and language about effective pedagogy of teacher preparation, focusing on current BU and Wheelock approaches, and practice-based approaches to teacher preparation.

Supporting and developing a professional community at BU Wheelock that can generate, test, revise, and disseminate a set of resources (curriculum materials, tools, videos, models of teacher educator pedagogies, etc.) to support teacher educators.
The designers proposed and created Elementary Educators United in response to the "incredible potential" they see in BU Wheelock to become a "national leader in elementary education." They envisioned the day as a "meeting of the minds where faculty of both prior institutions will focus on the identification of critical leverage points to further facilitate this goal."
The day began with ice-breakers and an activity where faculty discussed the future of elementary education at BU Wheelock by envisioning how our college would ideally operate by the year 2024. The faculty members brainstormed, designed plans, and set goals aimed at building the groundwork for this forward-looking vision.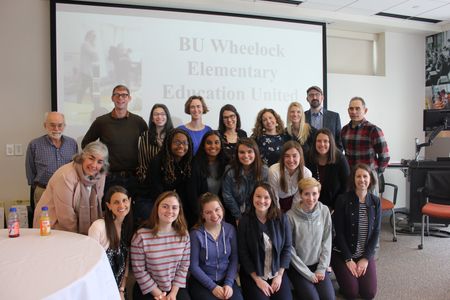 Next, a panel of current and former BU Wheelock students spoke about the learning opportunities they'd accessed during their studies, and considered pathways that could improve the experience of future students.

During the afternoon, faculty presented "program snapshots" which examined how different BU Wheelock academic programs contributed to elementary education at our college.
Dr. Andrea Bien and T.J. McKenna shared the "place-based" program they jointly contribute to. "The place-based coursework, or what I call mediated-field experience, is a critical component of our Elementary Education program because our teacher candidates have the opportunity to learn about teaching through teaching" says Dr. Bien.
"The Elementary teacher candidates spend a full semester working with students in grades 2 through 5 at the Trotter on science with T.J. and Language Arts with me," she continues. "What's particularly important to us about this collaboration is the deep learning that is possible for our teacher candidates, for the students at Trotter, and, honestly, for us; we are a community of stakeholders who all benefit."
The day concluded with Dr. Rebekah Louis's presentation of the contributions our Special Education Program makes to the preparation of elementary educators.
Mr. McKenna, one of the key organizers, expressed optimism about the impact the day would have on the future of elementary education at BU Wheelock. "Our strategic planning session demonstrated how invested the group is in continuing to make the elementary education at BU Wheelock one of the best in the nation," he says. "The student panel provided powerful insight into the experiences of those who matter most – alumni and current students."
He went on to emphasize how central the spirit of collaboration was to the day's success. "It was wonderful see 9 current and former students investing their time during one of the busiest times in their semester and working alongside professors from our Math, English & Language Arts, Social Studies, Science, and Special Education programs who are always striving for a more coherent and meaningful educational experience."
When asked about potentially continuing this event in the future, Mr. McKenna said "multiple participants mentioned that they would love to have another opportunity to continue this important conversation – the group even stayed and worked on building out next steps for an hour after the scheduled end of the day!"
Grace Hagerty