Dr. Solberg designs Professional Development Workshop Series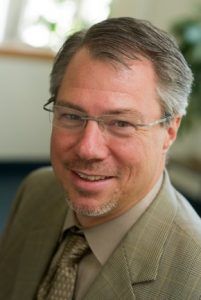 Professor V. Scott Solberg, who co-directs BU Wheelock's PhD program in Counseling Psychology, has contributed to the design of a three-day professional development workshop series that prepares school-based teams to successfully implement the newly developed College and Career Advising (CCA) Program, which prepares students for post-secondary success.
The workshop series, developed via partnership between Massachusetts School Counseling Association (MASCA) and the Massachusetts Department of Elementary and Secondary Education (MA DESE), is designed for school teams consisting of a school counselor, administrator, teacher and one other staff person (another counselor, special education teacher, etc.). The workshops are funded by the Council of Chief States School Officers as part of the New Skills for Youth initiative, and launched in Fall 2018. 80 schools are currently participating and there is an expectation of another 80 high schools participating next year. 
In the first workshop, school teams learned how to alternate between classroom and technology-related activities that focused on key career development skills areas: self-exploration and social/emotional learning, career awareness, career exploration, work-based learning (career immersion), academic planning, career planning and post-secondary education planning. Teams also received orientation and time to explore their schools' online career information systems.
Workshop two focuses on identifying grade-level learning objectives and a sequence of college and career advising lessons. School teams are being encouraged to focus on one grade level for initial implementation, and therefore will focus on designing a scope and sequence of college and career advising.
The final workshop is focused on implementation. School teams will determine how many college and career advising lessons they will implement and how the implementation will occur. Teams will also identify the communication materials they need to explain the nature and they will outline a strategy for evaluating the impact of their college and career advising program.
Dr. Solberg's work focuses on design, implementation, and evaluation of effective career development programs and services for especially high-need youth populations, including youth with disabilities. This work takes place on the international, national, and in the case of his work with Massachusetts DESE and MASCA, at the state and local levels. For further details about this professional development workshop series, please read Dr. Solberg's post on the MASCA news blog.
– Grace Hagerty