Drs. Solberg and Ferrari's Cross-Cultural Research Investigating Educator Views on Social Emotional Learning Achieves First Year Milestone
A cross-cultural team of predominately career development researchers led by Drs. Scott Solberg and Lea Ferrari (University of Padova co-Director) met in Padova, Italy July 9-10 to share the initial results of a five-year investigation into educator perceptions of the nature and value of social emotional learning. Solberg and Ferrari's collaboration is supported by the Boston University/Università degli studi di Padova faculty exchange program. The program has allowed Drs. Solberg and Ferrari to visit each other's campuses to work on the research design and allowed them to host a meeting in Padua with their research team collaborators.
Teams completing the first wave of data collection included China, Finland, Germany, Greece, Guatemala, Israel, Italy, Japan, Korea, Portugal, Romania, South Africa, Turkey, Uganda, and United States. Formally designated as an International Research Network in May 2019 by the World Education Research Association, the researchers share a common concern for seeking innovative solutions that will enable youth to gain the "deeper human" and "advanced technical skills" needed to compete for decent work within what the World Economic Forum has labeled as a 4th Industrial Revolution.
The meeting focused primarily on sharing individual country results from educators about their perceptions of the nature and value of their own SEL skills as well as what SEL skills they believe students need in order to succeed in life. Prior to the meeting, each country identified key SEL themes that emerged from the educator responses and the July meeting was used to report each country's results and begin to reflect on convergent and divergent themes.
Boston University doctoral student Kate Newman reflected on the nuanced differences that emerged. "While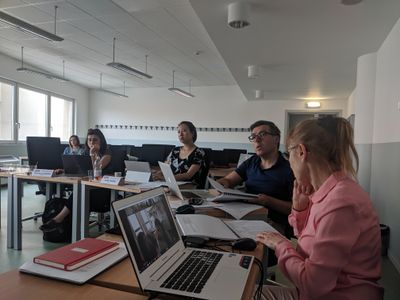 SEL is popular in the United States," says Ms. Newman, "the specific SEL skills are often used loosely. By sharing each country's results, we are able to look deeper at different shades of meaning that may reflect cultural, societal, and political differences in our conceptualization of specific SEL skills."
Dr. Gloria Marsay from the University of the Free State in South Africa says that her themes were "clearly influenced by their country's high rates of inequality, unemployment and poverty as well as a need to value and interact with a diverse range of cultures represented in South Africa." Mami Kanzaki an educational psychologist and researcher at Ritsumeikan University in Japan noted that their "students struggle with SEL efforts that encourage them to identify their 'unique' qualities." She believes that the lack of cultural diversity in Japan combined with a collectivist orientation contributes to an environment where students do not want to be singled out for fear of being perceived as different.
While educator responses identified a number of social emotional learning skills, it was clear that countries varied with respect to whether educators were familiar with the term Social Emotional Learning and more specifically the CASEL Model that guided the questions used in the survey. University of Padova student Sarah Congiu who helped gather Italian educators remarked that "most SEL research is in English and needs to be translated in order for non-English speaking educators to gain access." Many countries also reported challenges in educator participation. Another Padova student researcher, Nura Ferretto commented that some educators were reluctant to complete the survey because of being overwhelmed at the thought of how to be responsible for teaching SEL when their own SEL skills are being challenged: Many educators are "struggling to manage the many challenges they face in managing classes and teaching content." While the July 2019 meeting was the culmination of the first year of research, the goal of this project is to design resources to support educators engagement in their own SEL skills as the foundation for helping them build their own capacity to help youth develop SEL skills.
The researchers offered a number of reasons for what drew them to join the international research network. Drs. Feride Bacanli from Gazi University in Ankara, Turkey and Nurten Karacan Özdemir from Hasan Kalyoncu University, Gaziantep remarked that the project will make important contributions to learning how to help educators more effectively support high need and at-risk youth in Turkey as well as to collaborate with colleagues from around the world. Dr. Peter Weber from the University of Heidelberg in Germany believes the research effort will enable him to bridge the "divide between educators and labor specialists who do not often collaborate on career development efforts for youth." Dr. Angela Andrei from the national Institute of Educational Sciences in Romania has used the experiences from the research to launch a national conference on SEL and Career Development and is helping shape a school curriculum, including SEL elements that is taught in schools throughout Romania.
The next phase of the research involves identifying SEL themes that will be used to design an educator SEL self-efficacy measure and conduct a cross-cultural validation of the measure. Following up on University of Padova student researcher Gloria Pellegrini suggestion, the research network will produce a document that can be translated and presented in various languages showcasing the value of SEL skills on academic outcomes and how SEL skills connect to both career readiness and positive youth development.
The Project Manager for the SEL IRN is Dr. Chong Park, Research Assistant Professor at Boston University. She says "our next milestone is presenting our initial results at the annual International Association for Educational and Vocational Guidance conference in Bratislava, Slovakia in early September." Dr. Ferrari says that "Dr. Park's organizational skills and support has been critical in the successful execution of the project and is responsible for the fact that our teams were ready to present our results in time for our July meeting." This is no small feat given that nearly all of the team members were not familiar with the qualitative methods and analytic tools used to evaluate the results. "Dr. Park provided a wide range of group and personalized support that was critical in conducting our analyses," says Dr. Andrei from Romania.
To learn more about Dr. Solberg, click here.