Dr. Robert Weintraub Convenes "Colloquium on Great School Leadership for the 21st Century" in Brookline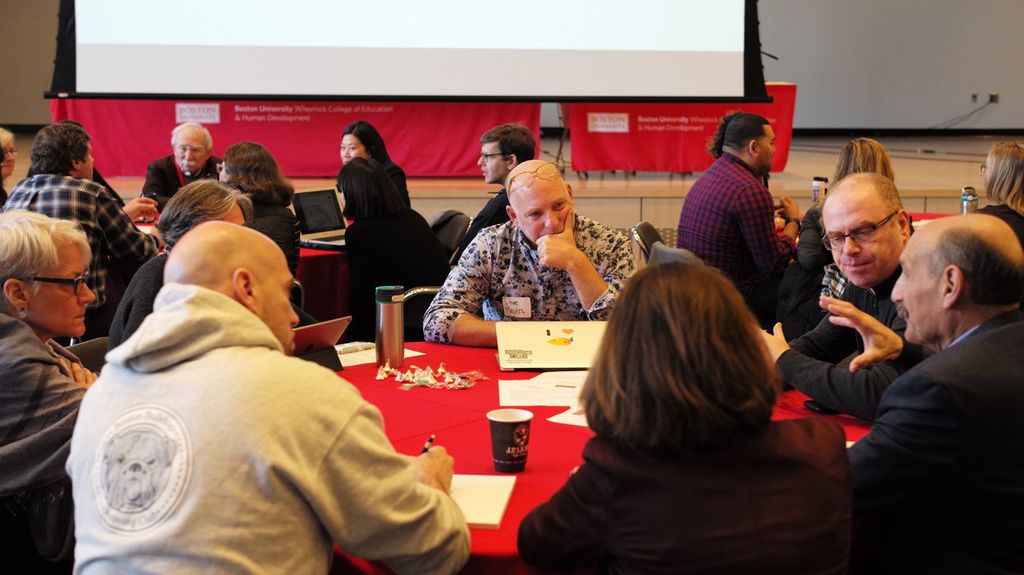 On Saturday, December 7, school and district leaders, teachers, and parents convened at Brookline's Coolidge Corner School for the Colloquium on Great School Leadership for the 21st Century, sponsored by BU Wheelock College of Education & Human Development and the Brookline Parents Organization
The colloquium was designed to bring these groups together to inform the town's search for a new superintendent of schools. Over 100 people attended the colloquium, including six members of the Brookline School Committee, Select Board member and BU Wheelock Associate Dean Dr. Raul Fernandez, State Representative Tommy Vitolo, and other local educators, activists, and political leaders.
Keynote speaker Dr. Ramon Gonzalez, founding principal of New York City's MS 223 Laboratory School of Finance and Technology, joined a group of presenters that included two 2018 superintendents of the year (Dr. Julie Hackett of the Lexington Public Schools and Karen Tarasevich of the West Warwick, Rhode Island Public Schools) and an array of school superintendents, principals, teachers, and engaged parents.
Colloquium convener Dr. Robert Weintraub, Senior Lecturer  and Program Director for Educational Leadership & Policy Studies at BU Wheelock, reported that the day's focus encompassed both "the good, and the not so good."
Attending superintendents and principals, including Dr. Gonzalez, focused their discussion on key attributes of good school and district leadership. They emphasized the importance of trusting and collaborative relationships in the community and collaborative work within the school system. In their talks and sessions, they advocated for a reasonable balance between central office direction, reached through a collaborative and inclusive process, and school-based autonomy, innovation, and creativity.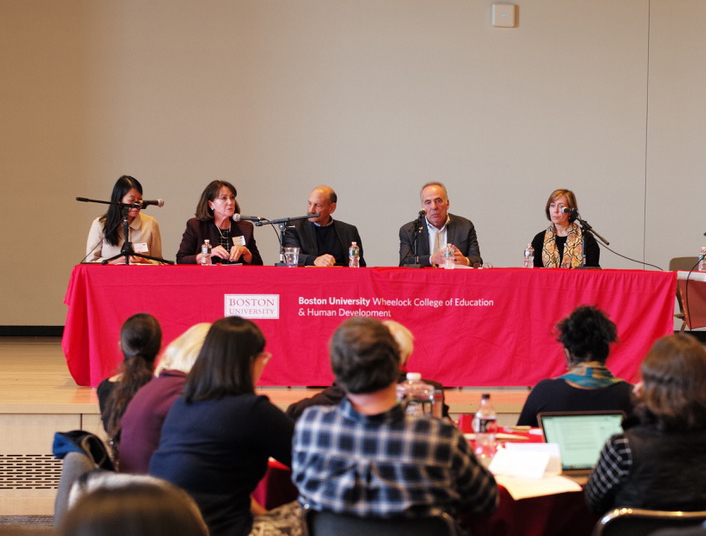 "Administrators have to make sure we don't make it difficult for people to innovate," said Dr. Hackett. "We have to insure that we have leaders who can create a safe space where teachers can express their important perspectives […] Don't say, 'You better do this or else I'm coming in with my rubric.' A leader has to win hearts and minds."
Ms. Tarasevich and Jon Sills, superintendent in Bedford, agreed. "You need a leadership team of principals and the superintendent to chart the direction together […] We need a central direction, and then build autonomy and creativity everywhere," said Mr. Sills.
"It's not about 'getting teachers to do it;' it's about getting them to own it and want to do it," said Ms. Tarasevich.
Dr. Henry Turner, principal of Newton North High School, cautioned against relying on an incoming leader to solve existing problems single-handedly. "If you are looking for a superintendent who has all the answers, that is problematic," he said, describing his own successful relationship with leadership as rooted in shared values and mutual encouragement. Brookline's Dr. Pipier Smith-Mumford, who led the Pierce K-8 Elementary School for 17 years, echoed that sentiment: "I want the superintendent to be the CEO – the Chief Encouragement Officer. If you are going out on a limb, you have to know that the superintendent has your back."
A second theme that emerged in discussion was the importance of entrepreneurial teachers and leaders, and the need for superintendents to support them. Dr. Gonzalez brought insight from the development process behind the school he founded in the Bronx 18 years ago:
"When we were planning our school, we asked students what they wanted in a school. They responded overwhelmingly, 'We want to learn how to make money and how to use technology.' We designed our school in response to the students; thus, The Laboratory School of Finance and Technology. And the term 'Laboratory' is about the nature of schools; that they are always evolving and changing. We certainly did not have a final product; we will never have a final product."
The tone changed somewhat when the Brookline teachers and parents took the stage. Dr. Weintraub described the context: "There is an existential crisis in our school system," expressing concern for "the soul of the Brookline Public Schools." Lauren Bernard, a parent and Director of After-School Enrichment Programs at the Coolidge Corner School, emphasized to the audience that many of the leadership characteristics described by the assembled principals and superintendents are too often missing in today's Brookline. Bernard celebrated Brookline's teachers who continue to demonstrate their deep commitment to the children. "My son has had a great experience because he has had teachers who were willing to change the structures to fit his needs."
Teachers and parents at the Colloquium shared their perspective on how past Brookline Public School central office leadership has been successful, emphasizing strong partnerships between teachers and parents within the schools. They cited teacher "authorship and ownership" of their professional development as inspiring and professionally important. They celebrated that teachers were viewed as scholars who were given the time and resources to work collaboratively. They were also encouraged to work individually with students, and argued that collaboration between teachers was itself an effective form of professional development.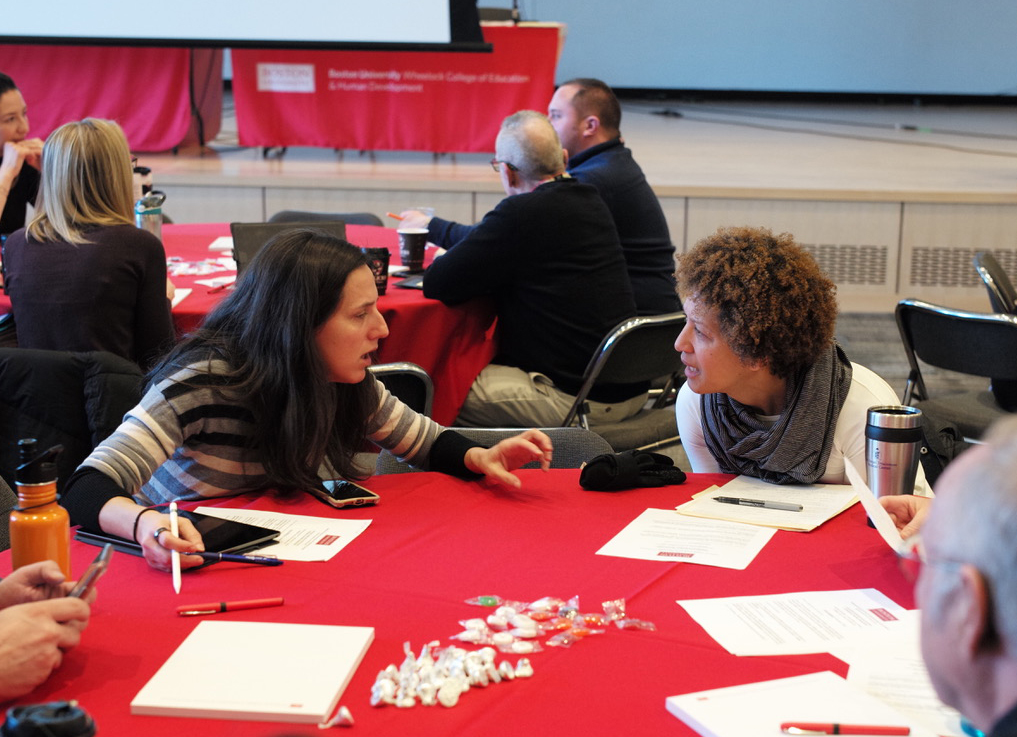 In their critical opinion of current leadership, teachers and parents argued that "standardization is replacing innovation and individualization." Creative things are happening behind closed doors because teachers are afraid of being in violation of the prescribed curriculum and schedule of curriculum delivery." They point to today's central office leadership that is "heavily top down, with an undercurrent of intimidation and fear," and that is unresponsive when presented with concerns.
As the Brookline Schools are searching for a new superintendent, teachers and parents are hopeful. "Brookline is packed with talented teachers who teach with their hearts and minds. We wonder and dream today what it will look like to have leadership that also leads with their hearts and minds? We need leadership that leads with curiosity, compassion humanity, grace, empathy, and trust."
Dr. Weintraub, whose experience as a school leader in multiple districts across Massachusetts informed the Colloquium's organization and content, concluded the day with an anecdote that highlighted the day's focus on collaboration and empathic leadership.
"I have been very lucky," said Dr. Weintraub. "I've worked with five truly outstanding superintendents of schools – William Gibbs in Arlington; Pat Mogan, Henry Mroz, and George Tsapatsaris in Lowell; and Jim Walsh in Brookline. They all demonstrated one core practice; they always asked, 'How can I help you?'"
"Leadership matters," he concluded.