Dr. Lynsey Gibbons Honored With 2021 AMTE Early Career Award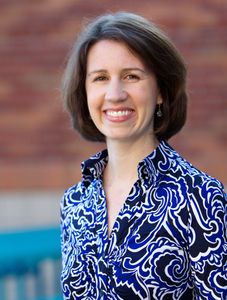 Dr. Lynsey Gibbons, BU Wheelock Assistant Professor of Mathematics Education has been honored with the 2021 Association of Mathematics Teacher Educators (AMTE) Early Career Award.
AMTE's Early Career award recognizes a mathematics teacher educator who, while early in their careers, has made distinguished contributions and shows exceptional potential for leadership in one or more areas of teaching, service, and/or scholarship.
As the 2021 award winner, Dr. Gibbons will be acknowledged during the annual AMTE conference in February 2021 and offered a speaking session on a topic of her choice during the 2022 Conference.
"I feel honored to have been selected for the award by the leadership of the Association of Mathematics Teacher Educators. The organization is one that I hold in high esteem," explains Dr. Gibbons, who says she always looks forward to the annual conference as a way to connect with colleagues and learn about the exciting work the organization is engaged with surrounding research, advocacy, and equity. "The members of the association care deeply about preparing and supporting mathematics teachers, so they can in turn engage in meaningful ways with children and young people. I have appreciated the relationships that I have developed with other members of AMTE, and the mentoring I have received from the STaR program."
At BU Wheelock, Dr. Gibbons's scholarship seeks to understand how teachers can be provided with rich opportunities to learn how to teach in ways that respond to children's brilliance and position them as capable sensemakers. In her research, Dr. Gibbons seeks to explore teacher learning through an organizational and systems perspective with special attention to professional learning routines, the roles of instructional leaders such as principals and coaches, and the role of coherent learning events that occur within the system. She works alongside teachers to understand the interrelation of their instructional practices and school-wide efforts to support them. To that end, her research focuses on designing for, facilitating, and examining teacher learning; specifying the practices of those who support teacher learning; and identifying tools and resources to support instructional leaders and teacher educators. She has written numerous articles about these topics in a number of journals, including The Elementary School Journal, Journal of Mathematical Behavior, Journal of Teacher Education, Journal of School Leadership, and Mathematics Teacher Education and Development. Gibbons has also published numerous articles in Teaching Children Mathematics, Educational Leadership, and other journals whose primary audience are teachers and school leaders.
"We are thrilled to see the outstanding work of Dr. Gibbons recognized by AMTE," explains Dr. Amie Grills, Associate Dean for Faculty Affairs and Research. "The research she conducts to identify effective practices that can be used by teachers, math coaches, and principals to support students' mathematical learning is incredibly valuable for the field of mathematics education, but also has broader contributions to the areas of coaching and school leadership. Dr. Gibbons is a talented academic who is well-deserving of this early career award and who will certainly have a long and productive career ahead!"