Dr. Laura Jiménez Contributes to BU Wheelock's Continuing Commitment to Equity, Diversity and Inclusion
On March 4, 2019 Boston University's Associate Provost of Diversity & Inclusion, Crystal Williams, welcomed Dr. Robin DiAngelo the author of White Fragility: Why It's So Hard for White People to Talk about Race to engage in a public conversation on race. Dr. Laura Jiménez, lecturer in BU Wheelock's Literacy Education program and chair of BU Wheelock's Equity, Diversity & Inclusion (EDI) Committee, was part of the small and dedicated programming committee for the event. This event is one way to ask the larger BU community, including  students, staff, and faculty to consider their actions and responses to racism. Dr. Jiménez noted that more than 450 people attended, despite inclement weather, to attend in-person and another 300 watched the event via livestream. This event will be a university wide stepping off point for focused cultural changes.
Earlier in the semester the Wheelock community welcomed Dr. Bianca Williams to talk about her book, Pursuing Happiness as A Political Project: Black Women, Travel, and the Promise of Diaspora. The event was sponsored in cooperation between the EDI committee and Wheelock Research committee, primarily organized by Dr. Andrea Bien and Amaris Davis. There was more than 80 BU Wheelock staff, faculty and students in attendance.
The EDI committee continues the tradition of monthly community meetings, welcoming students, staff, faculty from across the college and university. In these meetings everyone is welcome to contribute to the events, workshops, and other initiatives the EDI Committee oversees and collaborates on.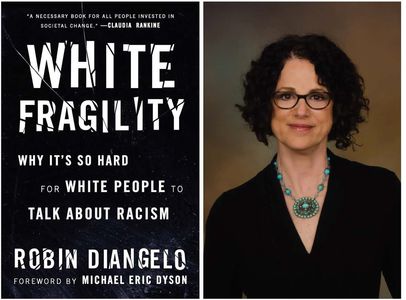 A new initiative this year is a Faculty Social Justice Study Group, which Dr. Jiménez founded and leads. She created the study group as a "space for our faculty to learn and expand their understanding of the ways systematic issues of privilege play out in education." Part of the group's work includes reevaluating their own course syllabi with the goal of bringing more and varied voices into classes here at BU Wheelock. The group, now more than a dozen faculty, has been reading Dr. DiAngelo's What Does it Mean to be White as a shared text, bringing our college into the continuing conversation about race, privilege, and education.
Upcoming EDI events include Wheelock Reads 2019 featuring Malinda Lo's A Line in the Dark. This annual event provides a copy of the book for each Wheelock student and an evening with the author. This year's selection is an award winning YA thriller that Teen Vogue called, "A twisty, dark psychological thriller that will leave you guessing till the very end." There will be a reception and presentation by the author on April 17, 2019.
Dr. Jiménez and the EDI committee will continue to provide opportunities for our Wheelock community to move forward in making social justice a focus of our college. Next year will bring speakers and events with an emphasis on social justice in coordination with Boston University's Associate Provost of Diversity & Inclusion to move us all and to The Work of creating the world our students so richly deserve.