Dr. Kathleen Corriveau Awarded $1 Million NSF Grant to Explore the Development of Scientific Inquiry in Early Childhood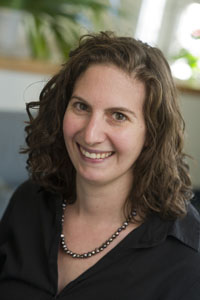 As an Assistant Professor in Human Development, much of Dr. Kathleen Corriveau's work looks at how children learn, and particularly how they learn from others. Part of this process involves children seeking answers from the adults around them, and Dr. Corriveau believes there may be a way to optimize the responses that children get back.
In fact, she was recently awarded a $1 million CAREER grant from the National Science Foundation to research how this optimization might occur, and in particular how it might impact a child's understanding of scientific inquiries before they have any exposure to the concept in formal schooling.
"There is a general belief that preschoolers learn best by exploring the world around them rather than being told the answer. For this reason, many inquiry based settings, such as preschools and museums, highlight that the child should be guiding the inquiry rather than the adult," Dr. Corriveau explained. "Yet, often there are critical concepts that require an adult explanation without firsthand evidence – and there are many different ways that the adult could provide this explanation."
One example she offers is a child wondering what makes a rainbow. Dr. Corriveau explained that there's several ways an adult might try and answer that question.
"An adult might offer an explanation, such as: 'I think it has something to do with light and rain,' or perhaps they are more detailed and say 'Sunlight goes through raindrops and is split up into lots of colors.'  Both explanations may be correct, but offer different levels of precision and clarity. If the adult happens to have a prism, they might work with the child to split it into colors, yet an explanation may still be needed as to why the light is being split and how the glass relates to millions of tiny rain droplets."
She added that in order to fully understand certain concepts—including what makes a rainbow—children need to turn to someone else.
"Our goal is to dissect explanations into various components and understand how these components work together to drive learning. We want to develop a framework to optimize an explanation," Dr. Corriveau said, adding that this optimization concerns factors such as timing, content, and the social relationship between the child and the person they're working with in order to promote learning.
Dr. Corriveau will explore the role of explanations in both formal and informal science learning settings, and her research will involve two key partners: the Early Childhood Learning Lab (ECLL), a play-based preschool housed right in the School of Education, as well as the Museum of Science in Boston.
Dr. Corriveau's $1,052,377 NSF Career Grant is for a five-year project.
---
CAREER: The Faculty Early Career Development (CAREER) Program is a Foundation-wide activity that offers the National Science Foundation's most prestigious awards in support of early-career faculty who have the potential to serve as academic role models in research and education and to lead advances in the mission of their department or organization. Activities pursued by early-career faculty should build a firm foundation for a lifetime of leadership in integrating education and research. NSF encourages submission of CAREER proposals from early-career faculty at all CAREER-eligible organizations and especially encourages women, members of underrepresented minority groups, and persons with disabilities to apply.