Dr. Eli Tucker-Raymond Honored with a 2020 Outstanding Book Award for STEM Literacies Publication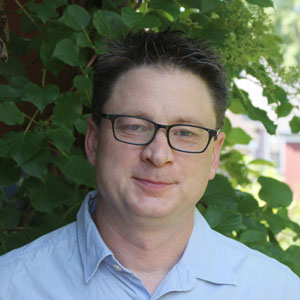 Dr. Eli Tucker-Raymond, BU Wheelock Research Associate Professor of Language and Literacy has been awarded a 2020 Outstanding Book Award by the Society of Professors of Education for his 2019 publication, STEM Literacies in Makerspaces. Implications for Learning, Teaching, and Research.
The book, published by Routledge, provides an original framework for studying makerspaces in a literacy context. Tucker-Raymond and co-author, Brian E. Gravel, Tufts University Assistant Professor of Education, define and illustrate five key STEM literacies – identifying, organizing, and integrating information; creating and traversing representations; communicating with others for help and feedback during making; documenting processes, and communicating finished products—and demonstrate how these literacies are instantiated in making spaces.
"Dr. Gravel and I hope that the book is a way to understand learning in all kinds of making spaces," Explains Tucker-Raymond, who hopes that it underscores both the agency of learners and the academic potential that learning in making spaces can support. While the text emphasizes making, literacies and STEM, Tucker-Raymond stresses that the book is, "really about how people interact with each other as they learn together, not just as individuals, and how those interactions can support broadening educational spaces in more equitable and inclusive ways."
Tucker-Raymond's publication is one of 14 texts highlighted as outstanding by the Society of Professors of Education. A professional and academic association of persons engaged in teacher preparation, the Society's primary goal is to provide a forum for consideration of major issues, tasks, problems, and challenges confronting professional educators. SPE is an interdisciplinary organization. Its members include both theoreticians and practitioners in education.
For Tucker-Raymond, who jokes that he hasn't won an award since 8th grade, the honor was both exciting and unexpected. "Seeing the other books that won," he remarks, "was humbling – knowing that we were considered among such important subjects."
At BU Wheelock, Dr. Tucker-Raymond is a Research Associate Professor where his research focuses on creating and understanding humanizing spaces for learners at the intersection of STEM, literacy, and the media/arts. He is particularly interested in spaces that promote racial equity and critical, compassionate relationships between educators and learners. A former middle school teacher, Dr. Tucker-Raymond grew up in Cambridge, MA and lives there now with his family. He has conducted research with community organizations and schools in Chicago, IL and in the Greater Boston area. He believes the golden era of hip hop was 1986-1992. He has served as principal investigator and co-principal investigator on several National Science Foundation-funded grants.
You can learn more about Dr. Tucker-Raymond here.