Dr. Christina Dobbs & Doctoral Student Caysie Carter to Present at AERA & NCTEAR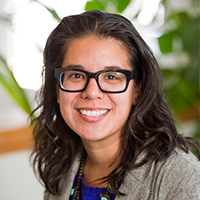 Assistant Professor of English Education, Christina Dobbs, PhD, and SED doctoral student, Caysie Carter, have been announced as presenters for the American Educational Research Association (AERA) 2018 Annual Meeting and the National Council of Teachers of English Assembly for Research (NCTEAR) 2018 Midwinter Conference.
By sampling twenty Boston University undergraduates from multiple colleges across campus, both Dobbs and Carter sought to find a multicultural group of students whom they could ask of their relationship with writing over the years. Since the practice of writing is typically introduced to students at varying stages and within varying contexts, it's crucial for research to uncover how one person's attitude towards writing differs from the next and why this difference exists, according to Dobbs.
In referencing existing studies, Dr. Dobbs says, "There are some pretty big holes in what we know about writing and its relationship to academic identity in a higher education setting. We know some things about international students, we know some things about younger students." However, as Dobbs points out, there are still questions left unanswered, "There just aren't many things out there that we've found so far that make connections between students and their majors, and what they ultimately decide is their pathway."
The AERA's Annual Meeting theme surrounds "The Dreams, Possibilities, and Necessity of Public Education" and occurs in New York City, NY, from April 13th to the 17th. Dr. Dobbs and Carter will be giving their presentation during the 'Advances in Interest Research' segment on Monday, April 16th, which is titled "Writing in High School and College: Undergraduates Discuss Academic Identity and the Transition from High School to College." The presentation pertains to the meeting's broader roundtable session of "Critical Transitions in Writing Lives: Young People Writing In and Beyond High School."
The NCTEAR's Midwinter Conference takes place March 16th to the 18th at Towson University in Towson, Maryland. The conference's primary focus this year is "Inclusivity, Diversity, Equity, and Activism (IDEA): Research and Practice for Success of All." Dobbs and Carter will present during the 'Academic Writing' session on Sunday, March 18, discussing the subject matter of "Exploring University Academic Writing: Undergraduates Discuss Writing, Academic Identity, and the Transition from High School to College."