Dr. Amie Grills Elected to Association for Behavioral and Cognitive Therapies Board of Directors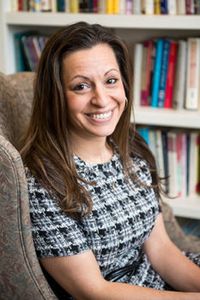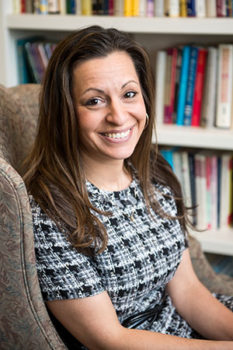 BU Wheelock's Associate Dean for Faculty Affairs, Dr. Amie Grills, has been elected to the Association for Behavioral and Cognitive Therapies (ABCT) Board of Directors as their Representative at Large for 2019-2022, where she will serve as board liaison for Academic and Professional Issues. 
The election is a special honor for Dr. Grills, who describes the organization as "my professional home for over 20 years."
"I am incredibly honored to have been elected to this position," says Dr. Grills. "[It is an] opportunity to increase my involvement with such an important organization within my field."
Prior to her election, Dr. Grills has served ABCT in a handful of leadership roles. She has held their Ambassador Chair position, and served as a program committee member for their annual meeting, where she has been a frequent presenter.
Those presentations include a symposium chaired solely by Dr. Grills at the 2012 annual meeting, titled The Importance of Coping Approaches Utilized in the Aftermath of Traumatic Events, which included Dr. Grills co-presentation (with Dr. Heather Littleton) of "Coping approach as a predictor of internalizing symptoms in college women exposed to a mass campus shooting: Results from a longitudinal study."
At that same annual meeting, Dr. Grills co-chaired and additional symposium, How Should We Measure 'Functional Impairment' among Anxious Youth?, with Dr. Candice Alfano, wherein she and Thomas Ollendick presented their comparison of impairment ratings of children with clinical anxiety disorders and no diagnoses. She also served as a panel member for the discussion "The elusive search: Finding work-life balance across stages of life and stages of career," at the 2010 ABCT meeting.
Since joining our college's Counseling Psychology Program in 2013, Dr. Grills has contributed significantly to her academic program and our colleges' leadership and research efforts. She's the recent recipient of a major NIH/NICHD grant to investigate practices for improving reading comprehension and reducing anxiety among third and fourth grade students who have reading difficulties, and a co-investigator on an NIH/NIMH-funded multi-site project that is examining a therapist-facilitated online intervention program for female college rape victims.
In 2017, Boston University named her their 2017 United Methodist Church Scholar/Teacher of the Year, and Choice Magazine's awarded her book, Critical Issues in School-Based Mental Health, co-edited with BU Wheelock's Dr. Melissa Holt, Outstanding Academic Title. She was also appointed as an Associate Editor of the academic journal Cognitive Therapy and Research. She has served as our Associate Dean for Academic Affairs since 2017, and was promoted to full Professor at the beginning of 2019.
We extend our warm congratulations to Dr. Grills, of whom we could not be more proud.
To learn more about Dr. Grills and her work, visit her faculty page here.
Grace Hagerty