Dr. Amie Grills Awarded 2017 United Methodist Church Scholar/Teacher of the Year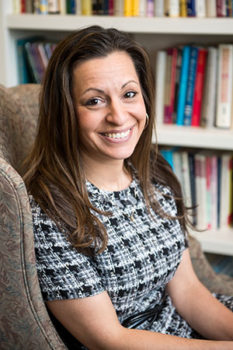 This April, Dr. Amie Grills was announced as Boston University's 2017 United Methodist Church Scholar/Teacher of the Year. The award, which has been conferred to a BU faculty member each year since 1982 at the direction of Provost's Faculty Teaching Awards Committee, honors "outstanding scholars for their dedication and contributions to the learning arts and to the institution."
In statement published on the Office of the Provost website, Dr. Grills was commended as exemplifying "the three principles of the United Methodist Church Scholar/Teacher of the Year Award: a record of ongoing, outstanding research; proven excellence as a teacher; and a professional history of dedication and contributions to the learning arts." The article continued:
Since joining Boston University five years ago, Professor Grills has worked tirelessly to turn the teaching of counseling psychology into something very real and relevant for her students. With an evolving approach that weds evidence-based and experiential teaching practices with the continual feedback of students and peers, Professor Grills has earned the admiration both of colleagues and those who leave her courses well-prepared for the rigors of conducting high-quality research.
"I love Dr. Grills," writes one student. "She is so enthusiastic, knowledgeable, and 'real.' I can tell she's dedicated to teaching [and] improving the masters program." "Her passion was contagious throughout the semester," writes another. "She's flexible, realistic, and super-informative."
Professor Grills's impactful scholarship precedes her, having produced a multitude of major grants and publications. She has provided leadership in her program's accreditation effort through the American Psychological Association and in shaping new master's and Ph.D. programs in Counseling Psychology and Applied Human Development.
Writes her nominator, "Dr. Grills [has the] ability to do it all… She exemplifies what it means to be a triple threat: excelling at research, teaching, and service."
The School of Education congratulates Dr. Grills on her award, and are proud to call her a member of our learning community.