Doctoral Student Rachel Oblath Awarded Research Funding from the Department of Health and Human Services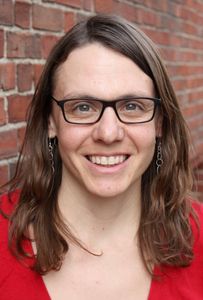 The US Department of Health and Human Services' Agency for Healthcare Research and Quality (AHRQ) has awarded BU Wheelock doctoral student Rachel Oblath a Research Dissertation Program grant in support of her research project, titled "Utilization of Mental Health Services among Urban Youth with Emotional and Behavioral Disorders."
Rachel's area of study is Applied Human Development, and her research focuses on "mental health service provision for children and adolescents with mental health challenges, and particularly those who experience peer victimization." She's especially interested in students' access to social and emotional support services during the summer, when school is not in session.
This AHRQ-funded project, which will run from April 1, 2019 through May 31, 2020, will delve further into that idea. Rachel will examine nearly a decade's worth of health records to determine whether disruptions in the continuity of outpatient mental health treatment are associated with increased emergency room visits for children and adolescents with psychiatric disorders.
As the project's narrative brief states, "continuity of care is a critical aspect of mental health treatment that is associated with increased treatment adherence, decreased hospitalization, lower healthcare costs, and improved health outcomes." Studying the relationship between continuity of care and ER visits may yield findings that can "inform efforts to improve continuity of care and reduce non-urgent youth psychiatric visits to the emergency department."
AHRQ Research Dissertation Program grants are intended to provide support to individuals who are conducting research undertaken as part of an accredited academic program to qualify for a research doctorate degree. Candidates must conduct dissertation projects which focus on health care delivery in the United States.
Rachel commented on the support she received throughout the grant application process, noting that "this grant would not have been possible" without the support and mentoring of her team at BU Wheelock and Boston Medical Center. She specifically notes the outstanding support given by BU Wheelock Senior Grants Administrator Marianne Taylor; mentors Jennifer Greif Green, PhD, Michelle Porche, EdD, and Elizabeth Bettini, PhD at BU Wheelock; and mentors Lisa Fortuna, MD and Alison Duncan, MD, at Boston Medical Center.
In addition to her doctoral studies, Rachel is a member, and  the former manager of the Social Adjustment and Bullying Prevention Laboratory, directed by BU Wheelock Associate Professors Jennifer Greif Green and Melissa Holt. Ms. Oblath has presented research at national conferences such as the American Educational Research Association (AERA), the American Psychological Association (APA), and the Association for Psychological Science (APS). She's been awarded a Glenn Doctoral Fellowship and a Boston University Women's Guild Award, and her research has earned awards from the Massachusetts Psychological Association (MPA) and the American Psychological Foundation (APF).
Rachel is a PhD student in Applied Human Development and the manager of the Social Adjustment and Bullying Prevention Laboratory. Her advisor is Dr. Jennifer Greif Green.

– Grace Hagerty