Doctoral Candidates Participate in Wheelock's First Doctoral Open Forum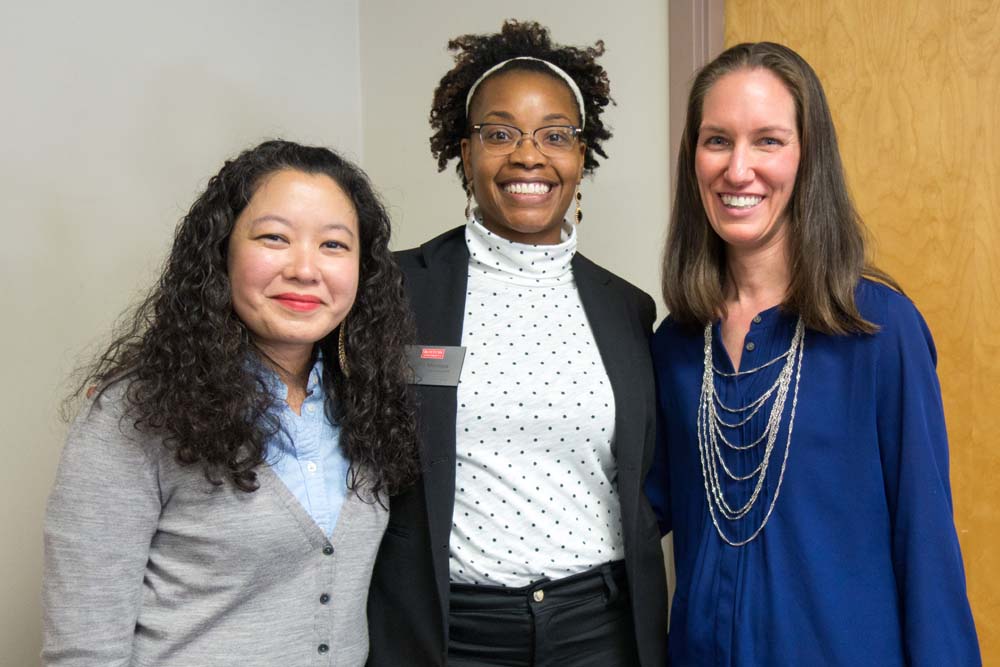 On January 30, doctoral students Anna Lim Franck and Jessica Koslouski became the first presenters of the Doctoral Student Open Forum for Works In Progress. The forum, which is slated to recur on the final Wednesday of each month this spring, gives BU Wheelock doctoral students and candidates the opportunity to present their work to an audience of peers, postdoctoral associates, faculty, and staff.
Dr. Jeana Morrison, who joined our community this past fall as one of the inaugural members of our AACTE Holmes Postdoctoral program, is the forum's organizer. The model for the forum came from experiences she'd had as a doctoral student at Drexel University, where students and faculty participated in a similar type of forum.
"It really helped doc students there," recalls Morrison. "We dreaded it at first, but it was a chance to present our own work, to speak to a diverse audience, and to get used to being in front of people." Dr. Morrison wanted her version of the forum to give BU Wheelock's doctoral students the same opportunity, while also serving as an opportunity to connect with more of them.
With support from Dr. Catherine O'Connor and Dr. Beth Warren, Dr. Morrison connected with BU Wheelock doctoral students who were interested in sharing their work. "We got a lot of interest, but people were hesitant to be the first to present," she notes. With the first forum date approaching, BU Wheelock faculty helped identify potential presenters who were willing to kick the series off.
Jessica Koslouski, who is pursuing a PhD in Applied Human Development, presented her in-progress study of trauma-informed teaching practices, titled Promoting well-being for students experiencing adversity and trauma: The everyday, yet profound, actions of teachers.
"I am very grateful to Dr. Jeana Morrison for creating this opportunity for us," says Koslouski. " It was a wonderful experience to present my work in such a supportive and collaborative space. I was very moved by  [fellow presenter] Anna's work and continue to reflect on her presentation. I strongly believe that this Open Forum will foster connections between faculty and students within and across our departments and these monthly sessions will contribute to an ongoing culture of support, collaboration, and growth here at BU Wheelock. I look forward to the upcoming sessions!"
Anna Lim Franck is pursuing her doctorate in BU Wheelock's Literacy & Language Education program, and specializing in ASL and Deaf Studies. Her presentation, Master Narratives and Counterstories in US Deaf Education, connects directly to her stated research goal of facilitating efficacy of multilingual education in the deaf classroom and to promote heritage language acquisition and literacy of D/deaf People of Color in the US.
"The open forum has been a wonderful exercise in adapting and sharing my work to a wider audience," says Lim Franck. "The responses I received have been very helpful for figuring out how I want my work to evolve and to which direction I could take it to."
Reflecting on the first forum, Dr. Morrison emphasized the value of actively supporting connections among doctoral students. "I was surprised at the response," she says. "The room was overflowing. It ended up being a great way to bring those students together, and also a way to bring faculty members from across the school together. It's an opportunity for us to figure out our identity, and to figure out what we can do to support our doctoral students as a community."