COVID-19 Impact Drives Interest in Positive Youth Development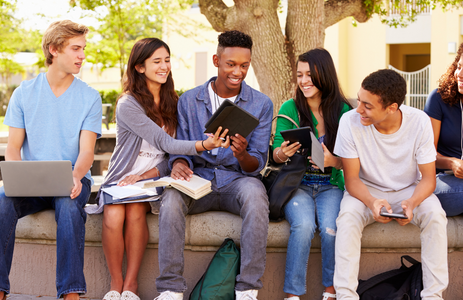 As pandemic social-distancing rules relax, young people are returning to school, summer camp, daycare, and other in-person activities. Teachers, counselors, program directors, social workers, and other supporters are helping them adjust to post-pandemic life—and it's far from easy. 
"Kids are feeling the effects of more than two years of staying in their houses and not talking to other people," says Rebecca Shangraw, a BU Wheelock senior lecturer in applied human development. "Play, recess, and just whispering to your friends when you're waiting in the lunch line are really important activities. Losing those connections had an impact on kids' development." 
After years of isolation, distancing, and confinement, how do young people regain the skills they need to build healthy relationships with themselves and others, and how do adults help them along the way? Shangraw says that for professionals who support children and youth, these questions seem to have sparked a new interest in the field of positive youth development (PYD). 
But what is "positive youth development"? According to youth.gov, it's an "intentional, prosocial approach that engages youth within their communities, schools, organizations, peer groups, and families in a manner that is productive and constructive." PYD draws on young people's strengths and resilience to promote their long-term well-being. 
According to Shangraw, who is the director of BU Wheelock's Applied Human Development master's program (which has a concentration in PYD), the pandemic and its effects have led more people to apply to the program, which has doubled its numbers in recent years. Students' career paths to seeking a degree in PYD vary—some are teachers, while others are school therapists, human service professionals, athletic trainers and coaches, nonprofit workers, or research assistants in developmental labs. But all of them want to "use the PYD framework to better serve the youth and adolescents in their communities," Shangraw says. 
Supporting Youth and Families
Kamilah Freeman, one of Shangraw's students, is one of those professionals. Originally from Atlanta, she worked at educational nonprofits as a youth instructor and curriculum designer before moving to Boston in 2022 to start her master's degree. 
When Freeman graduates in December, she wants to use her degree to develop programs that support families. "My goals are to be a source of support for youth to help them adjust to each developmental stage in their life," she says. "It's important to have social circles to bring resources to youth." 
In the PYD concentration, students like Freeman learn about the impact of families, friends, teachers, coaches, counselors, and others on a young person's development. When COVID-19 closures prevented youth from playing sports with their peers, sitting next to friends in classrooms, and having conversations with school counselors, their social and emotional worlds collapsed. 
"From the school closures, we saw how important schools are in children's ecosystems," Shangraw says. "Millions of kids across the US all of a sudden lost access to reliable sources of meals, healthcare, psychological or social–emotional services from school counselors, and access to trusted adults." 
As the US continues to recover from the pandemic's lasting effects, teachers and other youth-serving professionals are noting the challenge of repairing these broken social–emotional connections. The PYD program provides these professionals with tools they can use to help youth recover from pandemic-related challenges. 
"Positive youth development professionals can play a large role in helping kids right now," Shangraw says.